Food Bank Use Rises By 17% in Scotland
18 November 2015, 07:18 | Updated: 30 March 2016, 13:50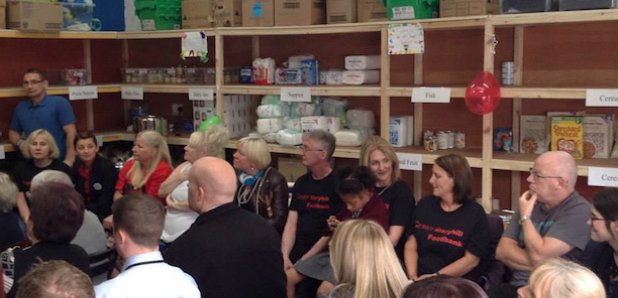 Food bank use in Scotland has increased 17% compared to the same period last year, according to new figures.
The SNP said the rise recorded during September to April this year was "alarming''.
The latest Trussell Trust data showed there were 60,458 referrals to its food banks during the period - of which 19,058 were for children, the party said.
Reacting to the figures, SNP MSP Kevin Stewart said: "They represent 60,000 occasions where people in Scotland were in such dire straits that they could not afford to eat and on almost 20,000 occasions this happened to a family with children.
"The figures also show that UK Government benefit changes and delays continue to be the most common reason for people seeking emergency food aid.
"While Tory ministers have their head in the sand on the issue, the Scottish Government recognises this link and is spending almost £300 million over three years to mitigate Tory social security cuts.
"That any government would consider further cuts to the incomes of the poorest families in our society in the face of such clear evidence of rising poverty is appalling - yet George Osborne is set to plough ahead with £12 billion more social security cuts.''
A UK Government spokesman said: "Our reforms have secured record employment, a near record number of job vacancies and a growing economy.
"We maintain a strong social safety net and continue to spend around £80 billion on working age benefits.
"We know that the reasons for food bank use are complex and overlapping and it is spurious to claim that it is driven by changes to welfare.
"Work remains the best route out of poverty and thanks to this Government's long term economic plan thousands of people are experiencing the dignity of a job, the security of a wage and the peace of mind that comes from supporting your family, many for the first time.''