FM: Scotland In Solidarity With London
23 March 2017, 12:55 | Updated: 23 March 2017, 12:58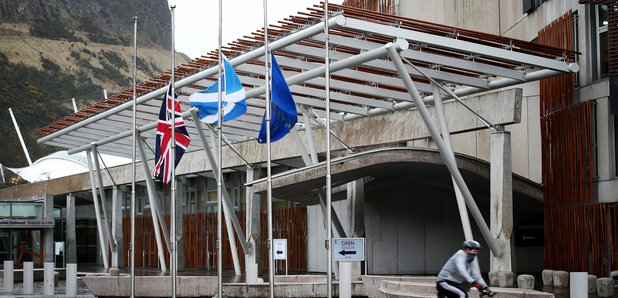 First Minister Nicola Sturgeon has said Scotland stands in solidarity with London following the ''heinous'' terrorist attack on Westminster.
In a bid to reassure people, she said there had been a ''substantial uplift in armed officers on duty'' across Scotland's major cities.
The First Minister, though, also urged the public to go about their business ''confidently and defiantly''.
Flags were at half-mast at Holyrood as Ms Sturgeon updated MSPs on the situation at an unusually sombre First Minister's Questions after a knife-wielding attacker ploughed a car through pedestrians on Westminster Bridge before storming the parliamentary estate on Wednesday.
She spoke of her ''shock and sadness'' over the attack and sent ''heartfelt condolences to those who have lost loved ones'' and the injured.
Ms Sturgeon said: ''Many of us in this chamber have friends and colleagues, indeed some of us have family members, who work within the Palace of Westminster - parliamentarians, staff and journalists.
''Yesterday was a harrowing day for all of them and they have our support and good wishes.
''Above all, we stand in solidarity with London - a vibrant, diverse, wonderful city that will never be cowed by mindless acts of violence.
''This attack stands, of course, as a stark reminder of the dangerous jobs that our emergency services do every day on our behalf.
''Yesterday, a Metropolitan Police officer went to work to protect and defend democracy, and did not return home.
''Our thoughts and prayers are with the family of Pc Keith Palmer.
''However, today we should also express our appreciation to policemen and women across the country who risk their lives every day in the line of duty.
''To the police and security staff who keep us safe here in our own parliament, we say thank you.''