Fiancee Takes Campaign For Ex-Soldier In India Jail To Number 10
12 October 2017, 14:28 | Updated: 12 October 2017, 14:32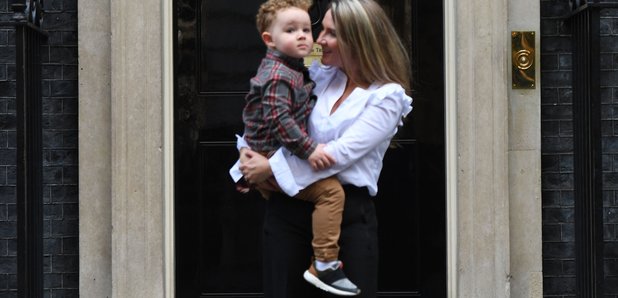 The fiancee of a British ex-soldier jailed in India said she thinks about marrying him "every single day" as she took her justice campaign to Number 10.
Loved ones of six ex-soldiers currently in a "hell hole" prison in Chennai handed in a petition demanding the Government do more to secure their release, marking four years since they were first arrested.

The six, who a British lawyer says are victims of a miscarriage of justice, have been held for 1,461 days in India.

They were first jailed on weapons charges while working as security guards on ships to combat piracy in the Indian Ocean.

Indian coastguards boarded their vessel, the MV Seaman Guard Ohio, and arrested them for taking weapons into India's territorial waters in October 2013.

The charges were initially quashed when the men argued the weapons were lawfully held for anti-piracy purposes and their paperwork, issued by the UK Government, was in order.

But a lower court reinstated the prosecution and they were convicted in January last year and sentenced to five years jail.

Since then there has been a series of appeals as the families navigate the tortuous Indian legal system.

Yvonne MacHugh, from Paisley, the fiancee of Billy Irving, 37, of Oban, Scotland, a former member of 1 Para, was accompanied in Downing Street by their two-year-old son William, whom he is yet to spend a day at home with.

She said William has now been to India three times to visit his father.

Ms MacHugh said the Government's efforts "aren't good enough", adding: "I want them to openly say 'We know the men are innocent, release them now'.

"And fight for them."

Ms MacHugh, 28, said William is the best thing that has ever happened to her, adding: "He's shown me that I've got to be strong, and I can be strong.

"But it is horrific. Every single day ... I'm now a single mum."

Ms MacHugh said they got engaged when she brought William over to India to visit Mr Irving for the first time, and they had the wedding planned for May 2016 when they thought her fiance would be home.

"It would be both a homecoming celebration and our wedding celebration," she said, adding that she has not lost hope and said she thinks about it "every single day".

She added: "Definitely. It will happen. I just want it to happen tomorrow, and not in five years time."

She said her fiance would do anything to be at home with them.

"We don't know what to do to have him released. We don't know if what we're doing is right. We don't know if it's wrong.

"But we just know we have to do something, and we're trying to do everything we can to bring him home."

Ms MacHugh said she sends lots of photographs to her fiance, writing to him every week, and talks to her son about his father every day.

"We watch home movies of his dad, and pictures and everything, so that he doesn't forget him.

"And that when he does come home he knows that that's the dad who loved him and has loved him from day one," she said.

Ms MacHugh said her fiance writes bedtime stories for William which she reads to him at night.

She said they are hoping for a strong response from governmemt.

"Boris Johnson has said in the past that he will leave no stone unturned to release the Chennai six.

"And really we are just hoping that he backs that up with actions," she said.

In the meantime the six are facing the looming prospect of another Christmas behind bars at Puzhal Prison, the vast penal complex in Chennai, home to 3,000 inmates including murderers and rapists.

The five other men are John Armstrong, 30, of Wigton, Cumbria, an ex-Paratroop Regiment soldier; Nick Dunn, 31, of Ashington, Northumberland, a former member of 1 Para; Nicholas Simpson, 47, of Catterick, North Yorkshire, a former Sergeant Major in the 1st Battalion Yorkshire Regiment; Ray Tindall, 42, of Chester, who served with the 1st Battalion Yorkshire Regiment and the Welsh Guards; Paul Towers, 54, originally from Bootle, but living in Pocklington, East Yorkshire, a former member of 1 Para.

The families lobbied MPs on Thursday at Parliament before handing in the petition with 405,000 signatures at Number 10.

Theresa May has raised the matter on a visit to India and Britain's High Commissioner in India has visited the men in jail but the families say Foreign Office diplomacy is not working.

Family and friends have rallied round, the Mission To Seafarers charity has helped and free legal advice has come from City lawyer Stephen Askins, a maritime law expert and ex-Royal Marine.

Joanne Thomlinson, 32, the sister of Mr Armstrong, said it would "mean the absolute world" to get her brother home.

Accompanied to Downing Street by her five-year-old son Joshua, Ms Thomlinson said it feels that not much progress has been made in the last four years.

Speaking about the meeting in Westminster with MPs and supporters on Thursday morning, she said: "I don't come out of meetings anymore like I maybe used to, quite naively thinking everyone was making the right noises therefore the men are going to be released.

"We know that it's not that easy. But I felt positive that so many people turned up, that we had a huge amount of support, and that hopefully the group that we met with today are going to keep in touch and have regular meetings about what more they can do as a group of MPs to help us."

She said her family make visits to India as often as possible and also communicate through letters.

Ms Thomlinson said her brother tries to keep busy but is frustrated with the legal case, adding: "I think probably days like today are going to be really difficult for them, because any kind of milestones where they think about the passage of time, it's really difficult for them to think about how long they've been there unjustly."

She said the men are in shared cells, sleep on the floor on a thin mat and get one meal a day, adding that it is "incredibly hot".

Ms Thomlinson said her brother makes it easy for them to visit because he "always plasters a smile on his face and reassures us that he's OK".

She said the thing she dreads most is "walking out and seeing him behind those gates", adding: "It's just the most horrendous feeling to be able to walk out of there and have to leave him in there."