Fans warned ahead of Scottish Cup semis
13 April 2018, 12:03 | Updated: 13 April 2018, 12:05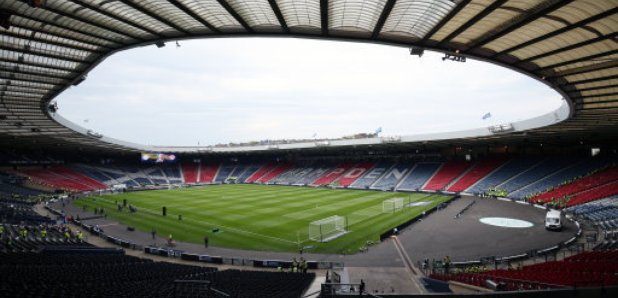 Football fans have been urged to be on their best behaviour at the stadium and in their homes over the Scottish Cup semi final weekend.
Aberdeen play Motherwell on Saturday at Hampden Park in Glasgow with Celtic and Rangers meeting there on Sunday.
Police Scotland will stage a large-scale operation across the weekend and want the football to be "an enjoyable family occasion".
While the police focus will be at the stadium, arrests have been made after recent Celtic and Rangers games over offensive social media posts and officers said action will be taken against offenders.
Chief Superintendent Brian McInulty, responsible for the policing operation over the weekend, said: "We have a zero tolerance approach to any form of hate crime so whether that be somebody shouting something in the pub, in a domestic setting, somebody doing it in the stadium or somebody doing that online.
"If we are not able to arrest the person at the time we will carry out thorough retrospective investigations and make sure that we do everything we can to bring those people to justice.
He added: "The atmosphere will be electric, emotions will be running high and the vast majority of supporters will be contributing towards an exciting and positive atmosphere. However, anyone who involves themselves in acts of sectarianism, disorder or violence will be dealt with robustly."
Licensing and domestic abuse are key elements of the wider policing operation with a crackdown on pyrotechnics also planned at both matches.
Chief Superintendent McInulty said: "These are family occasions and you have four football clubs with four sets of supporters and on Friday and Saturday night you are going to have wee boys and girls going to bed excited, unable to sleep for thinking about the big game with their scarves hanging on their bedroom door.
"It is those boys and girls and their families that you are compromising the safety of if you are intent on going along and causing disorder. Please don't ruin it - this is a big occasion for Scotland and Scottish football and it is a family occasion.
"I'm very mindful that most fans want to go and enjoy the games but we will be focused on anyone with other intentions.
"We have seen a trend for people bring flares or pyrotechnics to matches. These devices can be very dangerous and can endanger your own as well as other's safety.
"It is important for those attending to remember that to enter the stadium with any of these devices such as flares or smoke bombs is illegal."
Celtic defeated Aberdeen 2-1 in last year's Scottish Cup final to complete a clean sweep of domestic trophies.
Chief Superintendent McInulty added: "All the teams taking part have committed and passionate supporters and the vast majority of those fans will want to enjoy the game in a safe environment
"These are showcase matches of what is best in Scottish football and we want it to be an enjoyable family occasion for everyone watching at the stadium or elsewhere."