Family Tribute To Aberdeen Schoolboy
29 October 2015, 17:42 | Updated: 30 March 2016, 13:50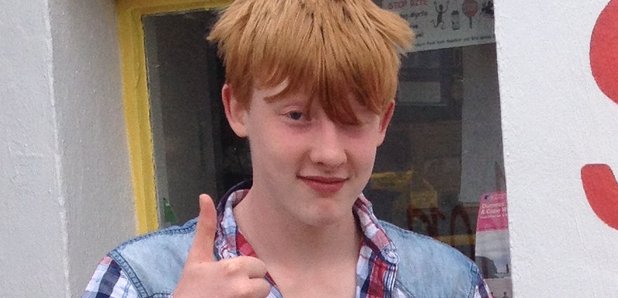 The family of Bailey Gwynne, who was fatally stabbed at an Aberdeen secondary school, have paid tribute to their "beloved boy'' who "never failed to make us smile''.
The 16-year-old suffered serious injuries in an incident at Cults Academy, in the west of the city, at about 1.30pm on Wednesday and died a short time later in hospital.
A 16-year-old boy has been charged in connection with the death. He is expected to appear at the city's sheriff court on Friday.
In a statement released through Police Scotland, Bailey's family said: "There are no words.
"Bailey is our beloved boy and our heart. Our hearts have gone with him.
"A special son, brother, grandson and friend - he never failed to make us smile (most of the time). He will always be our boy.
"We don't know what we will do without our junior 'man about the house'.
"We need time now to look after each other and send our love to all those who care for Bailey.''
he comprehensive school is in an affluent suburb of Aberdeen and serves the lower Deeside area. It has more than 1,000 pupils.
Head teacher Anna Muirhead has described Bailey as ''gentle and caring'', and told of the shock within the school community following his death.
Aberdeen City Council chief executive Angela Scott said on her blog to staff: ''I know that there were individual acts of heroism at the school yesterday and I fully appreciate that there were sights and experiences for many that you simply do not expect to have to face.''
Police Scotland Chief Superintendent Adrian Watson said evidence suggests it was a ''contained incident'' at the school with no-one else being sought.
He told a press conference in Aberdeen: ''In nigh-on 30 years in the police service as a senior investigating officer and for the past six years as commander for Aberdeen, you think that you have seen it all until you learn of yesterday's tragic events.''
Sending his condolences to the schoolboy's family and friends, he added: ''I know full well this will be deeply felt not only in the Cults area but across Aberdeen, and of course further afield.''
The officer went on: ''I can confirm we have charged a 16-year-old male in connection with the incident and he will be appearing at Aberdeen Sheriff Court tomorrow.
''I need to stress that all the evidence gathered to date suggests that this is a contained incident and we are not looking for anyone else.''
He added: "I can't go into the detail but we had several people who witnessed it in part, there's a lot of evidence still to work through and gather as you can imagine.''
Aberdeen City Council leader Jenny Laing told the press conference: ''The loss of a young life so full of potential is always a great tragedy but these circumstances are particularly distressing as it occurred in a place of learning, friendship and community.
''When you send your children to school you expect them to be in a place of safety and in a place where they will be equipped for their life ahead. That opportunity has been denied to Bailey.''
She said the loss of life ''represents a unique set of circumstances and is extremely rare, if not unheard of, in our city and its schools''.
Ms Laing added: ''For this tragedy to take place in one of the safest cities in Scotland is, of course, a terrible irony and means that we feel the pain of Bailey's family as one big extended community.
''We will not allow this tragedy to deflect us from supporting our young people as they make their way in the world.''
Dozens of floral tributes have been left at the school gates.
One handwritten message left among the flowers read: ''Bailey, forever in our hearts. My thoughts are with your family at this tragic time and with my fellow students who have shock and despair at you leaving us.''
One friend told how Bailey enjoyed going to the gym and said he thought he had plans to join the Marines.
Counselling is being made available to pupils and staff at the school, which has been closed for the rest of the week, and a dedicated phoneline has been set up for those affected on 01224 264299.
It was also confirmed there will be a series of assemblies held on Monday for pupils.
At First Minister's Questions earlier, Nicola Sturgeon said the thoughts of MSPs at Holyrood were with Bailey's loved ones and those affected by the death.
She also stressed that such incidents are ''extremely rare in our schools'' and pledged the Scottish Government would make sure any lessons which need to be learned are learned.