Family grateful to locals after lightning strike
11 June 2018, 08:13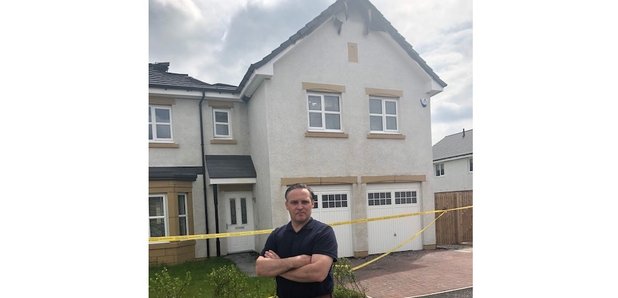 A man whose home was destroyed by fire after being hit by lightning says the community's been incredible.
Frank Malcolm and his family escaped unhurt from the house in Woodilee in East Dunbartonshire during the storm on Saturday night.
He was watching tv with his wife and two young children when it happened, knocking out the power.
He told us: "I was in the process of unplugging the appliances. Went upstairs and heard what I thought was water dripping. I looked out the window and saw the black smoke and realised it was crackling embers.
"It was instant ignition from the lightning. It was well alight by the time the fire brigade arrived.
"They basically stood and poured water over the walls for the next hour and made sure it was out, but the house was away."
Neighbours he didn't know have offered food, shelter, and helped salvage what they can from the property.
He said, "It's been very unexpected. The community have really rallied round.
"It restores your faith in community. They all pitched in and we salvaged some contents, which was good."
The local residents association have set up a fundraising page to help the family get back on their feet. It raised more than £3,000 of its £5,000 target in less than 24 hours.
You can find the fundraiser at https://www.justgiving.com/crowdfunding/woodilee-fire