Extra MSP Security After Racist Threats
4 February 2018, 10:35 | Updated: 4 February 2018, 10:40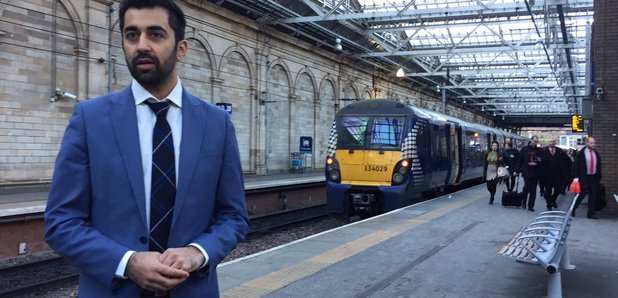 Scottish Transport Minister Humza Yousaf said racist threats had left him so "worried" about his safety and that of his family that he carries an personal attack alarm as "par for the course".
Mr Yousaf has also beefed up security at his house and his constituency office, and no longer conducts surgeries alone.
The politician, who was the first Holyrood minister to come from an ethnic minority background, told how he had received a private briefing from the police on security after reporting some incidents.
He also insisted the abuse he faced had worsened since the vote for Brexit and the election of Donald Trump as US President.
The Transport Minister highlighted a social media post showing a picture of him and his family, with the caption "Yet another problem that a machine gun would solve" as an example of the abuse he has had to deal with.
He spoke out after Labour MSP Anas Sarwar claimed that he had suffered racial abuse when he stood in the Scottish Labour leadership contest last year.
Mr Sarwar, a Glasgow MSP who lost out to left-winger Richard Leonard, claimed an elected councillor had told him he could not support him because he was a "brown, Muslim Paki".
Mr Yousaf, the MSP for Glasgow Pollok, told the Sunday Herald newspaper: "I get worried about my family. I've had a private briefing from police on the back of reporting some incidents. They said these are the steps that you might want to take to protect your constituency office and so forth. It's not a place you want to be in. But I've had to take all those steps.
"I carry a personal alarm. I just do that par for the course and carry it in my jacket. I shouldn't have a need to carry it."
He added: "During Brexit and post-Brexit it's got worse without a shadow of doubt. Frankly, part of it is not helped by the polarised debate around faith, whether that's in Europe or across the pond in the United States.
"It has exacerbated things. Brexit is a horrible example of that, with the rhetoric and anti-immigration tone."
Mr Sarwar said on Twitter: "You are right to speak out @HumzaYousaf. Don't listen to those that will undoubtedly claim "race card", do whataboutery or send more abuse. They inadvertently prove that everyday racism and Islamophobia exists."