Edinburgh Zoo Penguins Try And Pick Up A Mate
2 March 2016, 15:38 | Updated: 30 March 2016, 13:50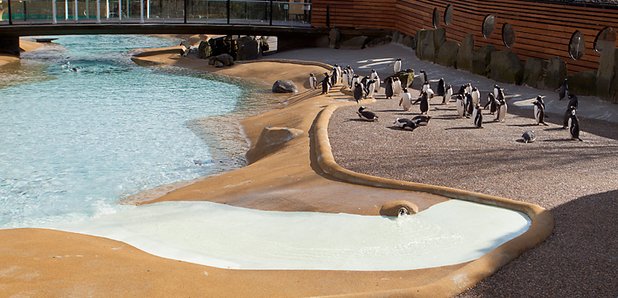 Penguins at Edinburgh Zoo are preparing for the breeding season.
Keepers have placed nest rings and pebbles in the enclosure to help the annual courtship display.
The Gentoos woo their potential partners by presenting them with the stones.
Penguin keeper Dawn Nicol said: "The start of penguin breeding season is the busiest time of the year for bird keepers, but it is also the most exciting.
"Once the Gentoos have found a mate and filled their nests with the best looking pebbles, the first eggs should start to appear in April, with the first hatchings in May after a 33-35 day incubation period.''
The zoo said the enclosure will also be home to same-sex penguin partnerships and keepers will allow them to become parents by giving them eggs from other nests which have too many.
The zoo has set up a webcam for people who are interested in watching the Gentoos' nesting activity. It can be seen here: http://www.edinburghzoo.org.uk/webcams/penguin-cam/