Edinburgh teen jailed for trying to murder refugee
17 August 2018, 14:18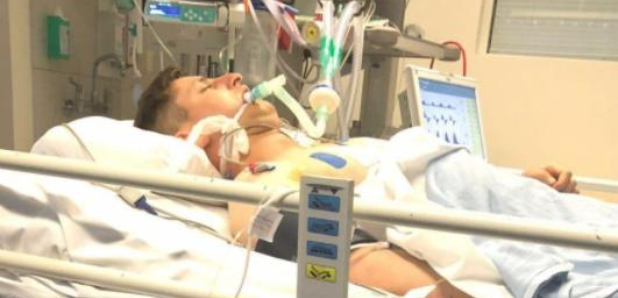 A teenager who attempted to murder a Syrian refugee in a "frenzied" racially-aggravated attack has been locked up for more than eight years.
Sean Gorman repeatedly stabbed Shabaz Ali, 25, in an argument about noise at an Edinburgh hostel in the early hours of May 3.
A court heard that Gorman, 18, was "hyper" after downing much of a litre bottle of vodka and taking ecstasy and cocaine prior to the
unprovoked attack with a lock-knife.
The teenager was also out on licence from another sentence for a violent attack involving a knife at the time of the offence at the hostel in
Upper Gilmore Place.
He later told social workers: "Deep down, I think I did want to stab somebody."
Gorman, who last month admitted the racially-aggravated murder-bid, returned to the High Court in Edinburgh for sentencing on Friday.
Judge Lord Woolman handed him an extended sentence of 11 years and nine months, involving detention for seven years and nine months
followed by four years of supervision upon his release from custody.
Gorman was also ordered to begin that sentence when he has finished serving 169 days of the previous sentence from 2017 for assault to
severe injury and the danger of life.
The judge told the 18-year-old: "You carried out a frenzied attack on a stranger, Mr Shabaz Ali. You stabbed him six times, five times in the
upper chest.
"But you would have been a threat to anyone you came across that night."
The court heard the wounds sustained by Mr Ali - whose family had fled from Syria to escape persecution - put his life in peril, leaving him
needing emergency surgery and intensive care.
"Without the urgent and expert hospital treatment he received, you could have faced a charge of murder," Lord Woolman warned the
attacker.
The court was told the attack has caused Mr Ali serious physical and psychological harm and has had a profound effect on his family.
Mr Ali fled to Scotland five years ago with his relatives and was working as a barber and staying in the hostel temporarily as he looked for a
new home.
Gorman was visiting the hostel and Mr Ali, who hoped to study engineering at university, called at the room due to the loud music being
played.
The teenager made threats and racially abused his victim before stabbing him and leaving the property.
Mr Ali's father Sivan told the charity Positive Action in Housing he could hear his son's attacker shout: "Why are you still here, why are you
not back in your own country?"
Gorman was traced a short time later in Duff Street and arrested.
Mr Ali's solicitor, Aamer Anwar, said the victim's father welcomes the "significant" sentence and the message sent out to "violent racists" like
Gorman.
Following the hearing, Detective Chief Inspector Paul Grainger said: "Gorman used appalling racist language before perpetrating significant
violence against the victim, who was left fighting for his life.
"I cannot condemn the circumstances of this case strongly enough. Edinburgh thrives on diversity and Gorman's actions do not in any way
reflect the values of our city."
Nicky Patrick, procurator fiscal for homicide and major crime, said: "It is clear that Sean Gorman chose to arm himself and confront his
victim with the purpose of doing him serious harm.
"The man he so brutally stabbed is lucky to be alive and will be left with severe physical and mental scars he will always carry.
"Sean Gorman is a very dangerous individual who poses a significant risk to the public. The lengthy sentence passed on him reflects the
gravity of his actions."