Edinburgh Fringe Attracts Record Crowds
29 August 2017, 06:33 | Updated: 29 August 2017, 06:34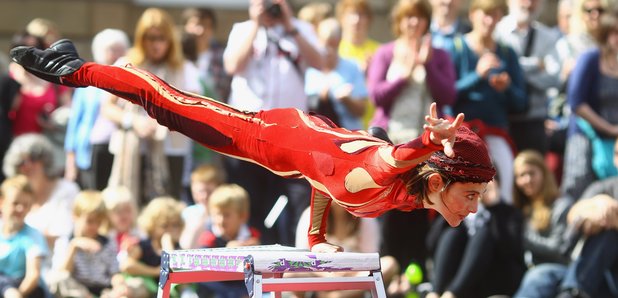 This year's Edinburgh Festival Fringe has attracted record audiences with an estimated 2.6 million tickets issued for shows, say organisers.
After 53,232 performances of 3,398 shows in 300 venues across Edinburgh, the curtain's finally come down and the house lights up on the 2017 programme.

By Monday afternoon, with hundreds of performances still to take place, figures showed there had been a 9% increase in ticket sales compared to 2016's figures.

A spokesman for the Fringe said: "We can confirm that more people than ever attended shows at the Fringe with an estimated 2,696,884 tickets issued for shows across Scotland's capital.

"The number of tickets issued reflects a 9% increase compared to tickets issued by the same point last year."

The 2017 Fringe included performances in a swimming pool, a boat, a bathroom, a football ground, a tunnel and a racecourse.

The programme also featured shows that addressed themes of belonging, identity, grief, Brexit, Trump, fake news, the Syrian conflict, gender and activism.

Shona McCarthy, chief executive of the Edinburgh Festival Fringe Society, said: "This has been a very special year for the Fringe as we celebrated 70 years of defying the norm, 70 years of the greatest melting pot of arts and culture anywhere on the planet and 70 years of Edinburgh as an internationally renowned festival city.

"In the current climate of global uncertainty, we were delighted to see an increase of 29% in the number of countries represented in this year's Fringe Programme. "

In July, the Edinburgh Festival Fringe Society launched the inaugural World Fringe Day which celebrated the birth of the fringe movement that started in Edinburgh in 1947 and has inspired a network of fringes across the world.

Fiona Hyslop, Cabinet Secretary for Culture, Tourism and External Affairs said: "The Fringe contributes strongly to Scotland's culture and economy and is key to the growth of our tourism and creative industries.

The Edinburgh International Book Festival, also celebrated a record year as its public programme finishes.

Organisers reported a record footfall of more than 250,000 into Charlotte Square Gardens, the largest audience in the 34-year history of the festival and a significant increase on 2016.

Ticket sales were up more than 4% and book sales grew by more than 5% on last year, with more than 63,000 books sold in the 17 days.

One thousand authors, illustrators, poets, politicians and performers from 50 countries have attended the event at Charlotte Square Gardens and the new expansion into George Street.

Nick Barley, director of the Edinburgh International Book Festival, said: "It's wonderful to see that our extension into George Street has attracted new audiences, while allowing us to retain all the spirit and vigour of the Book Festival's beating heart in Charlotte Square Gardens.

"This year's festival has been a riot of ideas, entertainment and unforgettable conversations involving writers and readers from all corners of the world - from Bonnyrigg to Buenos Aires and from Lewis to Lagos."

The International Festival drew to a close on Monday night with the Virgin Money Fireworks Concert.

Over the past month, festival goers have packed theatres and concert halls to experience the work of some of the world's greatest artists and ensembles.

The total sales of £4.3 million represent a new box-office record for the International Festival.

Organisers say the International Festival has continued to widen its audience and its geographical reach with artists as diverse as Jarvis Cocker, PJ Harvey, Stephin Merritt, Anoushka Shankar and Karine Polwart.

In dance, meanwhile, Boy Blue Entertainment scored two great successes - with Blak Whyte Gray at the Lyceum and Project R.E.B.E.L.

Fergus Linehan, festival director, said: "As the curtain falls on the 70th anniversary International Festival we are struck by the generosity, enthusiasm and endless curiosity of festival goers from Edinburgh and all over the world.

"We are hugely grateful to them and the thousands of artists who have lit up our stages and streets over the past month."