Dugdale Backed To Stay In Charge Of Labour
6 May 2016, 07:29 | Updated: 6 May 2016, 07:34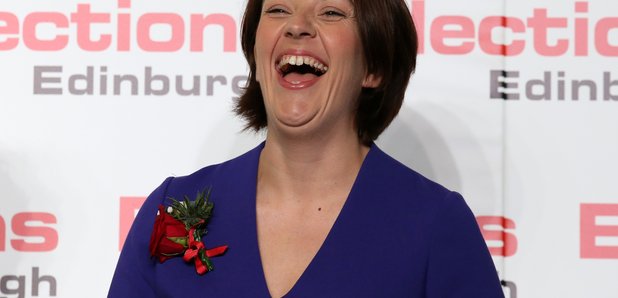 Senior Scottish Labour figures have insisted Kezia Dugdale should remain leader of the party as it faces its worst electoral performance ever at Holyrood.
The party has suffered the loss of a dozen constituency seats and swings to the Conservatives as it saw its support in its former heartlands all but evaporate.
Ms Dugdale failed to secure the Edinburgh Eastern seat in which she was standing, and will have to rely on a regional list seat to return to the Scottish Parliament.
Elsewhere, the party lost Eastwood to the Conservatives, and failed to win a single seat in Glasgow - which was once a Labour stronghold.
There was some good news in the constituency results, with wins for Iain Gray, Jackie Baillie and Daniel Johnson.
Ms Dugdale began the 2016 campaign trailing behind the SNP in the polls, and fighting the Tories for second place.
The prospect of a third-place finish follows the disastrous result for the party in last year's general election.
Labour won just one seat in that ballot, suffering huge losses at the hands of Nicola Sturgeon's SNP.
Recriminations over what went wrong for Labour have already begun, but senior figures said Ms Dugdale should not be ousted as leader.
Asked if Ms Dugdale should resign if the party finishes third behind the Tories, Mr Gray said: ''No... certainly not.
``Five years ago I was the leader and we had a bad election result and that was what happened, I resigned.
``You have to remember I had been leader for three years, and that was an election which I was expected to win, and we lost badly.
''The situation was very different. Since then, we have changed leader repeatedly and it has not served us well.''
Lothians list candidate Neil Findlay also told the BBC that Ms Dugdale should not resign.
Glasgow list candidate Anas Sarwar said: ''It's a difficult night for the Labour Party but I think what makes tonight different is that we have an opportunity after this election to not start from scratch, not run away from the platform which we stood on, but to use that platform in a positive way.''
Newly-elected MSP Mr Johnson said: ''We don't have all the results yet and I think the key thing is that Labour were setting the agenda with a lot of the arguments on education, on tax, and I think while we were doing that we've still got a way to go in terms of getting people's trust back.
''But I think those arguments are the ones that are going to endure through the parliament and that's a solid base to build on.
''We've got some thinking to do on how we take forward that platform. I'm always optimistic.''
Former Labour MP Thomas Docherty said: ``The indications tonight and indeed from the opinion polls are that we are now fighting with the Conservative Party for second place.
''The swing that we have seen tonight has been away from Labour and towards the Conservative Party.
''And the indications we are seeing already is that something like seven out of 10, perhaps three-quarters of Scots who have gone to the polls tonight, have voted for a centre or a centre-right party.''