Drugs Arrests In Fife
18 June 2015, 17:15 | Updated: 30 March 2016, 13:50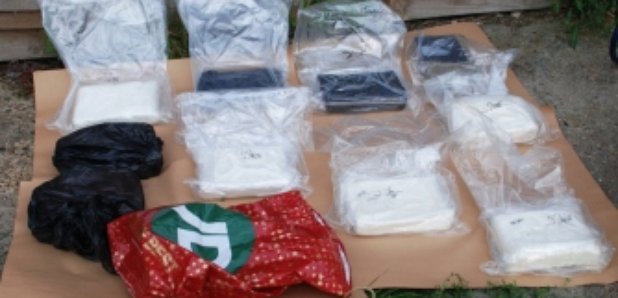 Five people have been arrested in drug raids targeting organised crime gangs.

Officers recovered cocaine, amphetamine and cannabis during searches of six properties in Fife on Thursday morning.
The operation in Cowdenbeath, Lochgelly and Kirkcaldy was part of efforts to disrupt large-scale drugs supply linked to organised crime groups, Police Scotland said.
Two people held, aged 39 and 35, will appear at court in Dunfermline and Kirkcaldy on Friday.
Detective Superintendent David Gordon, from the Organised Crime and Counter Terrorism Unit, said: "Today's activity forms part of a larger investigation to tackle serious organised crime, which has so far led to 47 people being charged for various offences.
"In addition, almost £1.5 million worth of drugs has been seized along with around £85,000 in cash.
"The arrests made today along with the additional drugs and cash we have recovered send a further message to organised crime groups that we continue to utilise all resources at our disposal to pursue you and bring you to justice.''
The raids were carried out as police announced they are stepping up efforts to tackle serious organised crime.
Justice Secretary Michael Matheson said a more sophisticated approach was needed in the face of new trends including cyber crime, human trafficking and environmental crime.
New figures show there are 232 serious organised crime groups - or about 3,700 individuals - operating in Scotland.
Around 70% of them are located in the west of Scotland, 18% in the east and 12% in the north.
Criminals are finding new channels to exploit, including the renewable energy sector, and pension fund and mortgage fraud is on the increase.
There are about 150 groups linked to seemingly legitimate businesses such as taxi companies, restaurants, shops and garage repairs where criminals launder cash, fund their criminal activities or make money by bypassing regulations.
The statistics also show that 65% of serious crime groups are involved in drug activities.
Mr Matheson said: "There's no place for serious organised crime in Scotland and I'm proud of the innovative approach we're taking to tackle it head-on, from the 'Mr Bigs' to the white-collar criminals exploiting our economy.
"Our success over the past eight years since the Serious Organised Crime Taskforce was set up is evident, however it is clear to me that the time is now right to shift direction to become even more sophisticated in tackling emerging crime trends.
"By working together, agencies are sending a really strong message that there's no place for criminals to hide and we will not allow them to peddle misery in our communities.''