Drop In Number Of Young Women Showing Early Signs Of Possible Cervical Cancer
4 October 2017, 17:09 | Updated: 4 October 2017, 17:14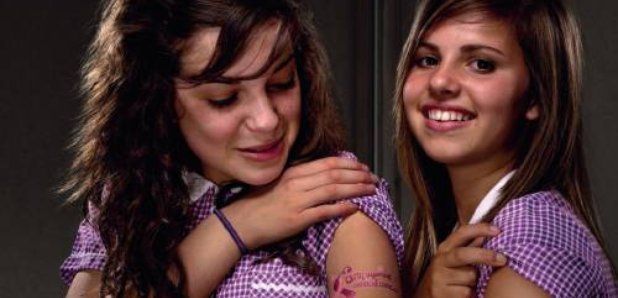 The number of young women showing early signs of possible cervical cancer has nearly halved in Scotland since the introduction of a school vaccination programme, according to research.
Cervical cancer is the second most common cancer in women under the age of 35, and types of human papilloma virus (HPV) are known to cause around 90% of those cancers in Scottish women.
A school-based immunisation drive began in 2008 for 12 and 13-year-old girls to protect them from the virus, with a catch-up programme also introduced. Uptake of the vaccine in Scotland is currently among the highest in the world, with around nine in 10 girls choosing to receive it.
Researchers at the University of Aberdeen analysed the number of women involved in the catch-up programme, aged 20 or 21, who were referred for a colposcopy - a procedure used to look at the cervix if screening finds abnormal cells.
They found that 1,294 women were referred for a colposcopy in 2008-2009 following an abnormal smear test, compared with 758 women in 2013-2014.
The team has described the 41% drop as "significant" and said they are seeing a reduction in the numbers much earlier than expected.
Study leader Professor Maggie Cruickshank, of the university's School of Medicine and Medical Science and Nutrition, said: "We thought it might take 20 years to see the benefits of HPV vaccination as it would take time to reduce levels of HPV infection - the virus that causes abnormal cells to develop.
"But this data shows that we're already seeing a significant reduction in colposcopy and subsequent treatment for pre-cancer.
"This is great news for women as this means they can avoid the short term negative effects of colposcopy such as pain and bleeding, but also longer term there are concerns that some women treated for pre-cancer changes can have an increased risk of pre-term labour."
Professor Mary Ann Lumsden, senior vice president of the Royal College of Obstetricians and Gynaecologists (RCOG), added: "Each day in the UK, nine women are diagnosed with cervical cancer - a largely preventable disease thanks to cervical screening and the HPV vaccination programme.
"We welcome these extremely encouraging results which reveal a reduction in the number of young women being referred for a colposcopy with early signs of potential cervical cancer - this is most likely due to the HPV vaccination programme's success. We encourage all girls aged 12 and 13 to take up the vaccine."
The study is published in BJOG (An International Journal of Obstetrics & Gynaecology.