Driver Health Issues Date Back Decades
31 July 2015, 18:45 | Updated: 30 March 2016, 13:50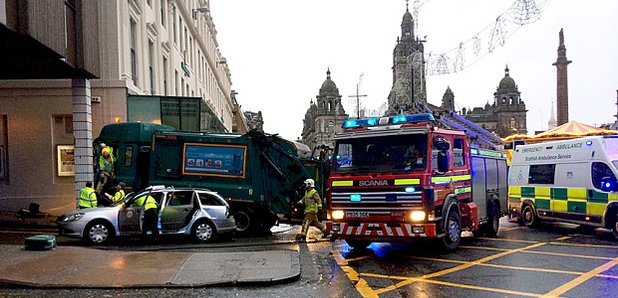 The driver of the bin lorry which killed six people has suffered from depression, dizziness, anxiety and vertigo for almost 40 years.
Harry Clarke also fainted or blacked out at work while driving a Tennent Caledonian lorry in 1989, and suffered from dizziness in 2003 while he was working as an oil tank driver and told by his GP not to drive.
This is in addition to blacking out behind the wheel of a bus in 2010.
But 58 year old Mr Clarke never mentioned any of his medical history when he filled out a medical questionnaire in 2010 when applying for a job with Glasgow City Council driving special needs children.
He then applied internally to became a grit lorry driver with the council before becoming a bin lorry driver.
On the medical questionnaire Mr Clarke failed to point out that he had suffered from dizziness and episodes of fainting.
Advocate Dorothy Bain QC read out Harry Clarke's medical record during the inquiry at Glasgow Sheriff Court.
She asked Geraldine Ham, HR director at the council, "It is essential that employees are truthful in their dealings with the council," and she replied: 'Yes'
Ms Bain, who represents the family of Jacqueline Morton, added: 'The bond of trust between the council and Mr Clark is non-existent' and Ms Ham replied: 'It would appear to be so'.
Miss Bain added: 'He would never have got the job if he told the truth isn't that right' and Ms Ham replied: 'Yes'.
The QC then said: 'If he had told the truth the six people who died would still be here and we wouldn't need to be here', and the HR manager replied: 'That's correct.'
Erin McQuade, 18, her grandparents Jack Sweeney, 68, and his 69-year-old wife Lorraine, all from Dumbarton, died in the incident in the city's Queen Street and George Square.
Stephenie Tait, 29, and Jacqueline Morton, 51, both from Glasgow, and Gillian Ewing, 52, from Edinburgh, were also killed when the truck mounted the pavement before crashing into the side of the Millennium Hotel.
Mr Clarke medical problems from 1976 onwards were read out in court, despite a plea from his lawyer not to have them revealed.
In the first entry 1976 he reported suffering from intermittent dizziness for two months.
The following year he was twice at the doctor complaining of dizziness.
By 1981 and 1982 he told his GP of problems with anxiety and in 1986 he was complaining of getting headaches while driving.
In 1987 he was talking about being stressed by his driving job and feeling dizzy when he bent down to ties his laces.
While working driving lorries for Tennant Caledonian in 1989 he told his doctor he has an episode of fainting or blacking out.
In 1991 he was complaining about problems with his balance and in 1994 he spoke of stress while driving a bus and also complained of dizziness and tightness in his chest.
His GP told him in 2003 to stop driving an oil tanker after Mr Clarke complained of dizziness.
In 2009 he complained of vertigo on occasions when he made a sudden movement with his head.
The court heard that in November 2009 Mr Clarke was off work with stress related to his work as a bus driver.
The inquiry has also heard that Mr Clarke collapsed at the wheel while driving a First Bus vehicle in April 2010.
But he told a doctor that the incident had happened in the canteen at work.
The inquiry before Sheriff John Beckett QC continues.