Double-Decker Bus Crashes In Glasgow
18 July 2016, 17:28 | Updated: 18 July 2016, 19:05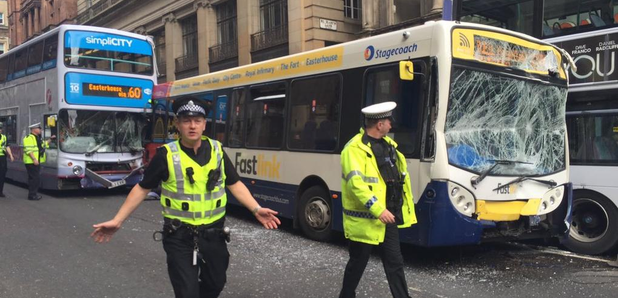 A ''runaway'' bus has caused chaos in Glasgow city centre, ploughing into other vehicles and leaving a pedestrian injured.
Witness Arran Watkins said he saw the driver get out the vehicle, which is understood to have been empty, to visit a newsagents and chase after it when it started to roll.
The incident happened in the city's Renfield Street, between West George Street and St Vincent Street, just before 4pm on Monday.
Mr Watkins, managing director of AW Painters and Decorators, said: ``When a bus stops it normally makes a hissing noise and then it lowers itself, but in this case, the bus didn't do that.
''The driver ran into a newsagents and the bus started rolling down the hill.
''He chased after it, but the bus hit a blue Renault Twingo which was then smashed forward and hit a pedestrian.
''He was about 18 years old.
''Another pedestrian gave him first aid and then the emergency services turned up.
''The boy was lying on the ground and he was still conscious from what I could see.''
Mr Watkins said that he initially feared it was a terror attack.
He added: ''It looked like the lorry incident in Nice. The emergency services were quite quick in responding to the incident.
''It also hit a bus waiting at the traffic lights and that one went into other buses. They are fairly squished and compacted together.
''There were passengers on the other buses.
''I saw the passengers coming out holding their necks, so there will probably be some other minor injuries.''
Police confirmed one pedestrian had been injured.
A Police Scotland spokeswoman said: ``Around 3.45pm, police received a report of a bus having struck a male pedestrian on Renfield Street near to West George Street, Glasgow.
``Emergency services are at the scene and inquiries are ongoing to establish the full circumstances of the incident.''
Renfield Street was initially closed, leading to major city centre congestion, but later reopened.
Police Scotland confirmed the bus collided with a stationary car at traffic lights at West George Street.
An additional police statement said: ``The car moved forward and struck a pedestrian on Renfield Street.
''The bus continued to travel on Renfield Street before it collided with a stationary bus near to St Vincent Street, which then nudged into another stationary bus on Renfield Street.
A First Glasgow spokesman said: ``We can confirm that a First Glasgow vehicle was involved in an incident on Renfield Street this afternoon.
''Its too early to speculate on the cause of the incident. However, we've launched an immediate investigation and will work closely with the emergency authorities to determine exactly what happened.
''Our thoughts at this time are with the two men who were injured as a result of the incident.''