Donald Trump: Brexit Vote A 'Great Thing'
24 June 2016, 11:00 | Updated: 24 June 2016, 11:02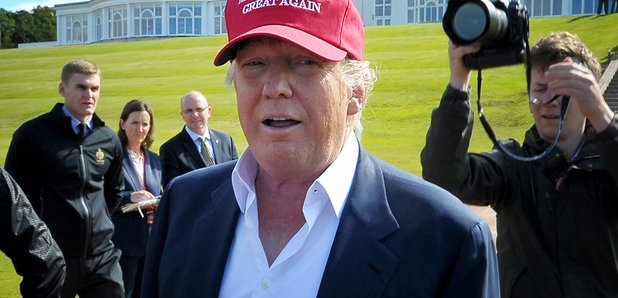 Presidential hopeful Donald Trump said it is a 'great thing' that the people of the UK have 'taken back their country' in voting to leave the EU, as he touched down at his golf resort in Scotland.
The billionaire arrived in his Trump emblazoned helicopter at the Turnberry resort in South Ayrshire to officially open the revamped resort he bought in 2014, just an hour after Prime Minister David Cameron said he intended to stand down in October.
He gave a thumbs up as he left his helicopter and shook hands with workers on his way to the hotel before making the comments about the EU referendum result.
Mr Trump said: ''I think it's a great thing that's happened. It's an amazing vote, very historic.
People are angry all over the world. They're angry over borders, they're angry over people coming into the country and taking over and nobody even knows who they are.
They're angry about many, many things in the UK, the US and many other places.
This will not be the last.''
He said UK divisions 'will heal' as 'it is a great place' adding: ''I said this was going to happen and I think it is a great thing.
Basically, they took back their country. That's a great thing.
I think we're doing very well in the United States also, and it is essentially the same thing that is happening in the United States.
I want to support my son who really represented me here in building this great great place (Turnberry).''