Donald Trump Bound For Scotland
12 July 2018, 07:13 | Updated: 12 July 2018, 07:15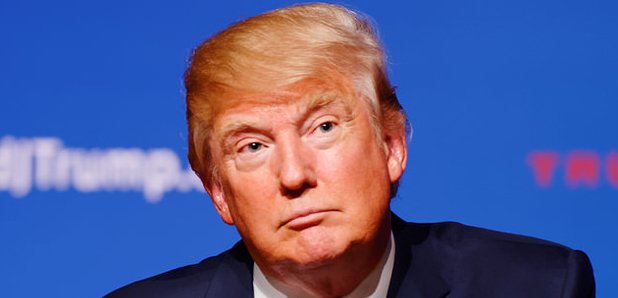 Donald Trump's upcoming visit to Scotland is an opportunity for the country to "strengthen vital links" with one of its most important allies, the UK Government minister who will greet him has said.
David Mundell, the Secretary of State for Scotland, will welcome the controversial US president and his wife Melania to the country on Friday.
Mr Trump is believed to be spending the weekend playing golf at his Turnberry resort in South Ayrshire, which he bought in 2014, although there has been no official confirmation of his plans.
Mr Mundell said he is looking forward to welcoming the president.
He said: "I am looking forward to greeting Mr Trump on behalf of the UK Government when he arrives in Scotland on Friday. The UK and the USA have longstanding and important cultural, trade and security bonds.
"The president's visit is an opportunity to strengthen vital links with one of our most important global allies. The president's Scots heritage is well known, and I hope he enjoys his visit to Scotland."
But protests against Mr Trump have already started, with about a dozen activists from Stand Up to Racism Scotland staging a brief demo outside the Turnberry course on Wednesday.
Further gatherings and rallies are planned across the UK from Thursday, when Mr Trump - whose mother was born on the Isle of Lewis in the Outer Hebrides - is expected to touch down in Britain.
With the president set to travel to Scotland on Friday evening after meeting the Queen at Windsor Castle, a protest is planned for Glasgow's
George Square.
A rally will also be held outside the president's Balmedie course in Aberdeenshire on Saturday, and it is expected there could be further demonstrations at Turnberry.
A national demonstration is planned at the Scottish Parliament in Edinburgh on Saturday, as well as a "Carnival of Resistance" in the Meadows area of the capital.
First Minister Nicola Sturgeon has in the past been an outspoken critic of Mr Trump, with a Scottish Government spokesman saying there are no official meetings planned between the two leaders.
He said: "President Trump is coming to the UK at the invitation of the UK Government and the Secretary of State for Scotland will greet him on arrival. We understand the president's time in Scotland is planned as a personal, private visit between other engagements with no official meetings.
"The Scottish Government has been planning for this for some time with key partners, including Police Scotland, and we will continue to work with them as required on the final preparations.
"Scotland has deep and longstanding ties of family, friendship and business with the United States, which will continue to endure.
"At the same time, we will not compromise our fundamental values of equality, diversity and human rights, and we expect these values to be made clear during the presidential visit to the UK.
"We would encourage those attending any protests to do so peacefully and safely."