Dog Walker Witness Appeal Over Milngavie Murder
4 January 2017, 15:20 | Updated: 4 January 2017, 15:25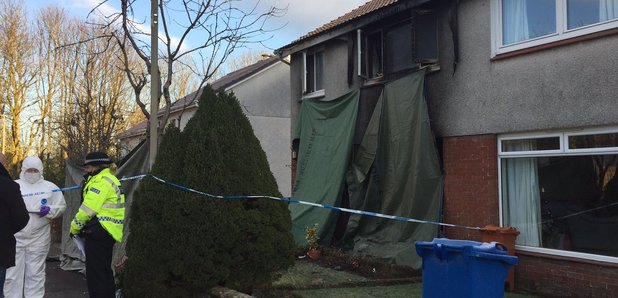 Detectives investigating a deliberate house fire which left a young man dead and his girlfriend fighting for her life want to trace a number of people seen close to the property around the time of the blaze.
Police said they are currently being treated as witnesses who could have "vital information''on the fire which killed 23-year-old Cameron Logan at his family home in Achray Place, Milngavie, East Dunbartonshire, in the early hours of New Year's Day.
His partner remains in a critical condition at the Queen Elizabeth University Hospital in Glasgow.
Mr Logan's parents suffered smoke inhalation while the family dog, Gomez, also died in the fire.
Emergency services were called to the fire at about 7.25am and are keen to trace a man wearing a grey hooded top and walking a pitbull in nearby Craigton Wood around the time of the fire as well as another man wearing a dark top seen walking along Craigton Road onto the West Highland Way with two Springer Spaniels.
Another dog walker, wearing a hooded jacket and darker trousers, seen on nearby Craigton Road at 7.42am and two joggers - a man and a woman - running together on Craigton Road at 8.10am are also being sought.
Detective Chief Inspector Paul Livingstone said: "It's crucial that we speak to these people seen on CCTV as they may have seen something important, even unwittingly, that could really help with this investigation.
"They may have seen the dark-coloured car that reportedly had its engine running in the lay-by on Craigton Road or they may have seen other people out walking, driving, cycling or running, anything that could help us find who is responsible for this fatal fire.
"It could be they are in a routine out walking their dog at the same time every morning.
"They'll know the people who move about at that time of the morning, so they'll know if something is out of place or if there's a new face.''
The detective confirmed Mr Logan and his partner walked home from a house party in Milngavie after celebrating New Year with friends.
He said: "It was all friends, everybody knew each other, we've spoken to some partygoers who were at that house.
"It was in good spirits, everyone was getting on, there were no fallouts or disagreements, all in good spirits.''
Police have said there is nothing to suggest the wrong house was targeted in the fire and stress they are keeping an open mind about who the intended victim or victims were.
Mr Livingstone said: "At this time there's no information come in that anyone had a grudge or there was any fall-out with the family members with anyone else.''
He added: "All the members of the family have been very co-operative in trying to assist us. We've got initial statements from them.
"Understandably, they're shocked and traumatised, and trying to come to terms with what's happened, but we will be looking to speak to them again in the coming days.''
Tests to confirm the exact cause of the fire "could take some time'' but officers have been scouring woodland near the property on Wednesday.
The investigation team are also trying to trace the occupants of a dark car seen parked on Craigton Road around the time of the fire with its passenger door open and engine running.
Two black cars have been spotted on CCTV from the area but officers have been unable to get a make, model or registration.
Large green covers remain draped over the front of the house with police standing guard outside the property.
Anyone with information is asked to contact the investigation team on the 101 number. Crimestoppers can also be contacted on 0800 555 111.