Dog Almost Dies After Eating Corn On Cob
26 August 2016, 16:16 | Updated: 26 August 2016, 16:21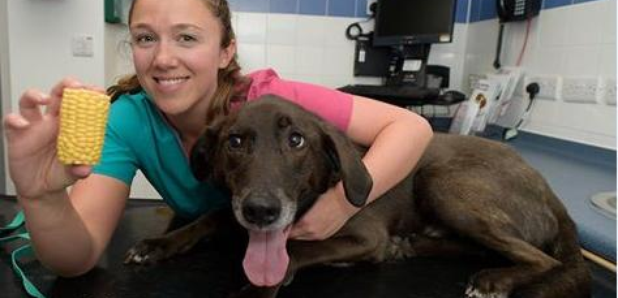 Pet owners are being urged to be careful with barbecue food after a dog needed half of his intestines removed when an entire corn on the cob became stuck in his stomach.
Rhodesian ridgeback crossbreed Sam needed life-saving surgery as the cob was restricting blood flow and rotting part of his small intestine.
The seven-year-old dog eventually had 4ft of his intestines removed by vets at PDSA's Glasgow pet hospital.
Owner Lorraine Graham, from Tollcross, Glasgow, noticed Sam was being sick regularly but had no idea of the extent of the problem.
PDSA senior vet Susie Hermit said: ``We found that the corn on the cob husk was causing a major blockage in Sam's small intestine, restricting the blood supply.
''Unfortunately, some of the damage was irreversible and we had to remove around half of his intestine, which had begun to die off and rot. Sam was very lucky to survive.
''He was at high risk of developing potentially-fatal blood poisoning and the operation to remove such a large section of his intestines was incredibly risky.''
Ms Graham, 43, believes Sam swallowed the cob while out of the house.
''We first noticed something was wrong when Sam started being sick, and it gradually got worse until he was being sick every 20 minutes,'' she said.
''I couldn't believe it when PDSA X-rayed him and told us what was causing the blockage. We hadn't been eating corn on the cob so he must have picked it up while outside.
``He was so weak and lethargic that I knew he was facing the fight of his life. Thankfully he pulled through and I can't thank PDSA enough for saving him.''
The pet charity said it dealt with 28 similar cases over the last year and is urging people planning barbecues over the bank holiday weekend to make sure they discard food properly.
Funding from the People's Postcode Lottery is helping spread the message, PDSA said.
PDSA is educating pet owners about the phenomenon of pets eating strange objects - known as ''pica'' - and how to keep their animals safe.
Ms Hermit said: ''Pets like to use their mouth to investigate objects as well as to eat. Puppies and younger pets will often swallow an item by mistake, even though they had only meant to investigate it.
''Something like corn on the cob might seem harmless enough but if an object moves along the digestive system, as it did with Sam, it can cause a tear or life-threatening blockage.
''If you have pets at home, try to keep anything dangerous or easy to swallow out of paws' reach. Only let them play with suitable pet toys and try to supervise them to avoid any accidents. If you do suspect your pet has swallowed something you should contact your vet for advice immediately.''