Derek Mackay pledges his Budget will protect 'vital public services'
21 February 2018, 06:34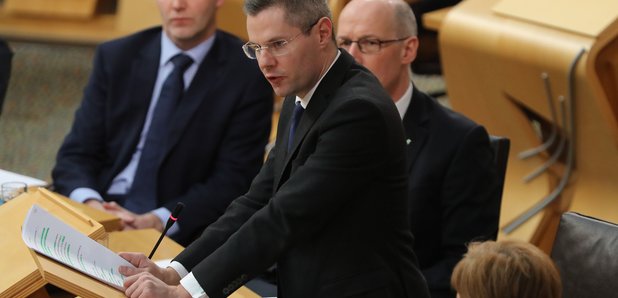 The Scottish budget will protect "vital public services" in the coming year, Finance Secretary Derek Mackay insisted, despite claims that his spending plans will leave councils £386 million short.
Labour finance spokesman James Kelly claimed the Scottish Government was still serving up an "austerity budget" that would see cuts to services.
But Mr Mackay argued the proposals - which will be approved this afternoon with the help of Holyrood's six Green MSPs - would bring about an extra £400 million of investment in the NHS, with councils receiving a "fair funding settlement".
The Finance Secretary said: "This budget provides the investment we need to meet the challenges of today while seizing the opportunities of tomorrow.
"It delivers increased funding for the NHS, protects low and middle income earners, and provides further support for our economy, helping businesses, large and small to develop and thrive in the 21st century.
"The decisions I have taken allow this government to reverse the £200 million real terms cut handed down by the UK Government, enabling us to invest an additional £400 million in our NHS and protect our vital public services.
"It ensures our partners in local government will receive a real-terms increase in funding to more than £10.5 billion. This fair funding settlement is in addition to any changes to council tax local authorities may pursue."
The budget vote comes 24 hours after MSPs approved the set-up of a new income tax system in Scotland, which will benefit those on low incomes but see some higher earners asked to pay more.
Taken together, Mr Mackay claimed his tax and spending package "will make Scotland a more attractive place to live and work and delivers a stronger economy and a fairer society".
But Mr Kelly hit out: "The SNP-Green budget stitch-up leaves local services with a £386 million shortfall."
He added: "Once again it is local authorities bearing the brunt of austerity thanks to decisions made by the Greens and the Nationalists."
The SNP's income tax changes included a 1p increase in the top rate, taking it to 46p, but Labour had been pushing for the highest earners to pay more.
Mr Kelly said: "This budget tinkers around the edges on tax when real change was required. Services will be cut as a result.
"Labour would ask the richest to pay their fair share with a 50p top rate of tax, and use the revenues to properly fund public services and tackle poverty."
Scottish Green finance spokesman Patrick Harvie defended his party's decision to back the SNP budget for the second year in a row.
He stated: "Communities throughout Scotland will, as a result of this deal, receive an additional £170 million for local council services, an agreement that more than reverses the £157 million of local government cuts proposed by the SNP.
"What's more, we've made this year's budget fairer by ensuring 73,000 more public sector workers, such as nurses and teachers, get an inflation-based pay rise and that 56% of people in Scotland will pay less tax in the coming year, while high earners contribute more."