Daughter Of IS Murder Victim Left Scared By Controlling Partner, Court Hears
20 September 2017, 14:20 | Updated: 20 September 2017, 14:21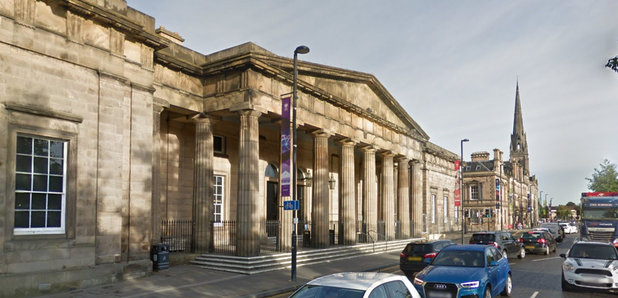 The daughter of a British aid worker murdered by Islamic State (IS) terrorists was left "scared and belittled" by her controlling partner who defaced a scrapbook she kept to remember her father, a court has heard.
Bethany Haines was in an on-off relationship with Andrew Murray when he targeted the "treasured" possession, a tribute to David Haines who was beheaded in Syria three years ago.

Perth Sheriff Court heard how Murray, 22, was jealous of her male friends and would accuse her of being unfaithful to him.

During their relationship between January and October last year, he tampered with her mobile phone, sent a compromising photograph of him and Ms Haines to a friend and punched a hole in the bedroom door of the home they shared in Coupar Angus, Perth and Kinross.

Murray has admitted causing his ex-partner fear or alarm with his behaviour and will be sentenced on October 24 after Sheriff Lindsay Foulis called for a social work report.

The court heard how 20-year-old Ms Haines' family and friends saw a difference in her appearance and demeanour when she was with Murray.

She stopped wearing make-up, rarely left the house and became hostile, prosecutors said.

Murray repeatedly checked her mobile phone and social media messages, and insisted she remove about 50 male friends from her Facebook account.

The first offender also tampered with her phone contacts list, changing a friend's number to his own so that he received messages sent to the friend by Ms Haines.

The court heard he called her an "unfit mother", a "junkie", a "slut" and a "liar".

"The complainer felt scared and belittled," said Fiscal Depute Sue Ruta.

She had returned to live with her mother in Scone in September last year when she received a message from Murray saying he had found her scrapbook - a 45-page notebook containing press articles and notes from journalists in relation to her father.

Ms Ruta said: "She treasured the book. It was her way of remembering her father."

When she later recovered the tribute, she found photographs of Ms Haines and her previous partner at Mr Haines' memorial service had been ruined, with her ex-partner's head ripped off and his body coloured in black.

The prosecutor said: "She went to retrieve the scrap book and saw that four pictures of her and her ex-partner at her father's memorial had been defaced.

"She couldn't comprehend how somebody could do that to her, knowing how upset she was about her father's death."

The court heard that Ms Haines, who has a young son, had received help from a trauma specialist after her father's death.

Yorkshire-born Mr Haines, 44, was taken hostage in Syria while working for international relief agency Acted in March 2014.

He had been been helping refugees in a camp near the Turkish border when he was snatched by IS militants.

The former RAF engineer was one of several hostages beheaded by IS, whose filmed executions involved the notorious terrorist Jihadi John.