College Lecturers Strike Over Pay
17 March 2016, 15:04 | Updated: 30 March 2016, 13:50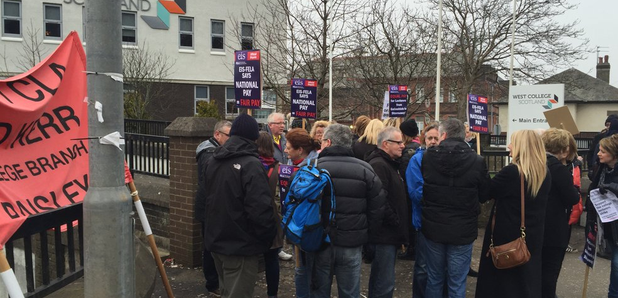 College lecturers have gone on strike across Scotland in a long-running dispute over pay.
The EIS trade union said its members are taking the action as a last resort following the failure of management to offer a fair deal and create national pay scales for lecturers.
Picket lines were in operation from 7am on Thursday for the one-day strike, but the walkouts are scheduled to continue until the summer and will escalate to two and then three days per week if no resolution is reached.
A total of 32 days' of industrial action is planned.
College staff have been offered a wage rise of 1% but the union wants action to tackle the wide variation in pay across the sector.
John Kelly, president of the EIS Further Education Lecturers' Association says: "This dispute is about equal pay. What that means is that at colleges across Scotland we find huge differentials between payments to lecturers, despite the fact they do the same job.
"It's a product of the last 23 years of local bargaining. However, back in 2011 the Scottish Government committed itself to a national set of terms and conditions.
"It was welcomed by virtually all the mainstream political parties. Two years ago we went into negotiations with Colleges Scotland to try to achieve this national set of terms and conditions. We have been negotiating for two years now, and to date, we have had no progress at all.''
The EIS said 88% of college members who voted in a ballot backed industrial action.
Two days of action are planned next week and the week beginning April 18.
Thereafter, staff will strike for three days - Tuesday to Thursday - each week until June 23.
Mr Kelly said he would rather be lecturing than standing on a picket line.
He said: "I should be teaching at 9am in West College Scotland in Paisley, an economics class looking at Brexit.
"Instead my college has forced me to go out on to the streets. I do not want to do this.
"The vast majority of students have been supportive. This is about equal pay.''
Colleges Scotland said the strike will hit 227,000 college students preparing for exams.
Chief executive Shona Struthers said: "We are under no illusion that the reintroduction of national bargaining to the college sector is a major challenge, but one we fully support.
"Throughout, we have been totally committed to putting the best deal on the table to reward staff for their hard work and commitment. Crucially, the deal has to be deliverable in a financially sustainable way, both now and in the future.
"Over the past few weeks real progress has been made, and we could be on the cusp of finding a viable solution. We can deliver a sustainable pay increase now, to everyone. We will then take decisive steps towards tackling variances in pay and conditions across the sector and modernising in the longer term.''
A strike support fund is being established to support members whose salaries will be disproportionally affected, such as part-time lecturers who would normally work on the planned strike days.