College Lecturers Balloted For Second Time
24 March 2017, 08:08 | Updated: 24 March 2017, 08:10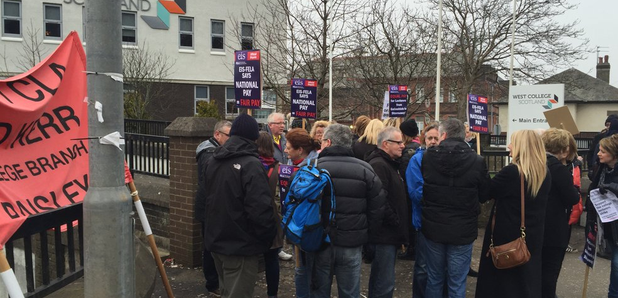 College lecturers are being balloted on strike action for a second time as part of a long-running dispute over pay.
The EIS trade union has begun sending out statutory ballot papers to members of its Further Education Lecturers' Association (EIS-FELA), with leaders demanding college bosses honour a deal that was agreed last year.
College staff walked out on strike for a day in March 2016, and had more than 30 days of action planned.
A revised offer from Colleges Scotland was accepted with staff promised wage rises as well as work between colleges and the union to develop a more ''harmonised'' pay deal across the workforce.
But EIS general secretary Larry Flanagan claimed the union was still waiting for that to be delivered.
He hit out: "After more than a year of waiting for colleges to deliver this binding agreement that was supposed to deliver pay harmonisation across the country, the patience of Scotland's further education lecturers is now exhausted.
"The degree of obfuscation from college managers over the non-delivery of the agreement they freely signed up to over a year ago has been simply incredible.
"Firm promises were made to lecturers on pay harmonisation across the sector, following many years of differing pay for lecturers doing the same job in colleges across the country.
"It is now time for college managers to stop their negative spin about the deal and to deliver the agreement that was struck last year.''
An indicative ballot of college staff has already shown "overwhelming'' support for more action, according to the EIS, with the statutory ballot now due to run until April 10.
EIS-FELA president John Kelly added: ``While no lecturer relishes the prospect of taking strike action, the inaction of management on the delivery of this year-old agreement has forced us to pursue this dispute.
"We must increase the pressure on Scotland's college principals to compel them to honour the deal and deliver their promises on fair pay for all lecturers across Scotland.''
Colleges Scotland has stressed it wants to avoid "unnecessary and disruptive'' industrial action by lecturers.
A spokeswoman said that staff had already received a pay rise and "good progress'' was being made in a number of other areas covered by the deal.