Clara Ponsati due in court in extradition battle
12 April 2018, 06:09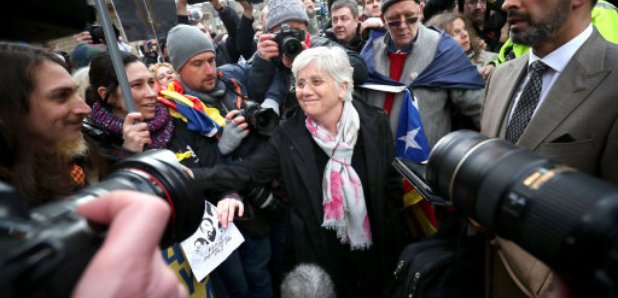 A former Catalan minister is due to return to court as her battle against extradition to Spain continues.
Professor Clara Ponsati will attend a preliminary extradition hearing at Edinburgh Sheriff Court on Thursday morning in the next step in her legal fight against "political motivated" charges.
Scotland-based Prof Ponsati, the ex-Catalan education minister, is being sought by the authorities in Madrid on charges of violent rebellion and misappropriation of public funds over her role in Catalonia's controversial independence referendum last year.
Her solicitor Aamer Anwar said she "utterly refutes" the charges, which could result in a sentence of up to 25 years - and eight years respectively if she were to be extradited and convicted.
The charges are contained in an extradition warrant from the Spanish Supreme Court issued last month.
Speaking before the hearing, Mr Anwar said: "Clara views the charges as 'a political motivated prosecution' and submits that her extradition would be unjust, oppressive and incompatible with her human rights.
"Clara challenges the validity of the arrest warrant which accuses her of orchestrating violence at over 2,259 polling booths, yet fails to specify a single act of violence or incitement attributable to her.
"We will submit that the warrant is not valid and should be dismissed. It will also be submitted that the crime of rebellion does not constitute an offence in Scotland.
"Clara believes that the Spanish authorities in their eagerness to criminalise the desire of the Catalan people for independence are abusing the process of the European arrest warrant."
Mr Anwar said if the warrant was not dismissed then a full extradition hearing would take place at a later date.
The academic appeared from custody at the court last month and was released on bail hours after she voluntarily handed herself in to Scottish police.
The case has attracted a huge amount of public support with more than £230,000 raised through an online crowdfunder set up to help her fight the extradition.
Prof Ponsati returned to Scotland earlier in March and resumed working at the University of St Andrews in Fife.
She had been in Belgium since fleeing Spain with Catalonia's ex-leader Carles Puigdemont and three other former cabinet members, following an unsuccessful bid to declare independence from Spain in October.
Last week a German court rejected "rebellion" as grounds for Mr Puigdemont's extradition from the country and released him on bail.