Claims troubled firm can't even afford to pay wages
13 November 2017, 18:20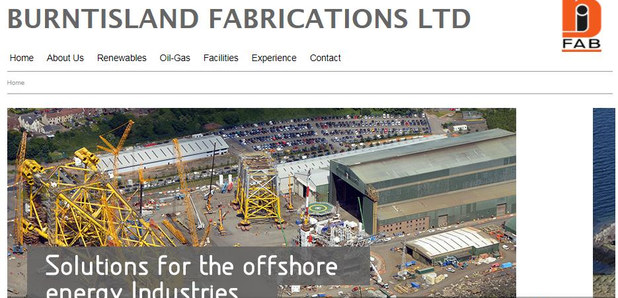 Talks are underway to try and protect the BiFab workforce at Burntisland and Methil in Fife.

Bosses at an offshore engineering firm at risk of entering administration say they remain hopeful a solution can be reached to secure the future of the business and its workforce.
Burntisland Fabrications Limited (BiFab) has a workforce of almost 1,400 people across three sites in Fife and on the Western Isles.
The company says it is facing a "critical cash position" linked to ongoing contracts and has filed a notice of its intention to appoint administrators.
Unions have raised fears over potential job losses at the firm, saying any loss of employment would be a blow for the Scottish economy.
BiFab managing director Martin Adam said: "We are very disappointed that we have found ourselves in the current position which has arisen as a result of a challenging situation in respect of our ongoing contracts which have been providing much-needed employment locally in Scotland.
"We are seeking a rapid solution with our key stakeholders and the Scottish Executive to our current cash flow position and are hopeful that this can be achieved quickly to secure the future of the business and the 1,400-strong workforce."
The company describes itself as a leading manufacturer of structures for the oil and gas and offshore wind industries.
It operates three facilities - Burntisland and Methil in Fife and Arnish on the Isle of Lewis.
BiFab said it is currently working on two significant contracts in respect of the under-construction Beatrice offshore wind farm in the outer Moray Firth.
One contract is nearing completion while the other is expected to run to the end of April next year.
Company directors stressed they are seeking an immediate financial solution and said they are encouraged by the rapid communication between interested parties in recent days.
Talks on the company's future are believed to have been held over the weekend, with further emergency meetings taking place on Monday.
The GMB union has 440 members across BiFab's three yards.
GMB Scotland Secretary Gary Smith told BBC Radio Scotland that hundreds of workers - and many hundreds more in the supply chain - are worried about the future.
"We need to understand why, what's happened, who knew what, when," he said.
"I'm very clear, closure of those yards and the sacking of those workers is not an option."
He told the Good Morning Scotland programme: "The Scottish Government has talked about (Scotland as) the Saudi Arabia of renewables.
"Every political interest in Scotland has told us that renewables are the jobs of the future.
"If they do not do something to secure the future of these yards, it will be a hammer blow to their credibility."
Pat Rafferty, leader of the Unite union in Scotland, said: "Let's not mince words here, the Scottish Government cannot stand by and watch BiFab being turned into an industrial graveyard.
"Make no mistake, Unite and its sister unions will not let that happen."
Paul Wheelhouse, Holyrood's energy minister, told the radio show: "We're clearly very much aware that this is a distressing time for the workforce and I want to give them reassurance that we're working extremely hard with the management of the company and key stakeholders to make sure that we deliver a positive outcome here."
Mr Wheelhouse said ministers are looking at all options to help support the management team at BiFab.
"I want to reassure you of that point, that we will leave no stone unturned," he said.
BiFab employs 251 permanent staff and 1,132 agency workers.