Chris Hoy talks to Euro Championships volunteers
27 July 2018, 11:25 | Updated: 27 July 2018, 11:29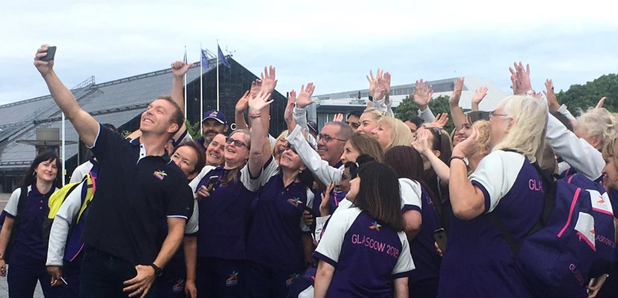 Volunteers for the Glasgow 2018 European Championships have received a pep talk from Sir Chris Hoy with less than a week until the action begins.
Scotland's greatest Olympian met around 200 volunteers and visited venues for the event which brings together the previously individual European Championships in athletics, aquatics, cycling, gymnastics, rowing and triathlon with a new golf event.
It is being hosted jointly by Glasgow and Berlin with the hope of elevating the status of European Championships in each sport and attracting a large continental audience.
Volunteers will be helping out at 12 venues including sites outside Glasgow with open water swimming at Loch Lomond, rowing and triathlon at Strathclyde Country Park, golf at Gleneagles and diving in Edinburgh.
Sir Chris, who will be part of the BBC commentary team, said: "Volunteers underpin major sporting events and they are so often the unsung heroes, setting the tone for the event.
"It was great to have the opportunity to meet so many of them today and see the palpable enthusiasm they have for welcoming Europe's finest athletes to Scotland.
"I wish everyone associated with the event a successful and enjoyable 2018 European Championships and look forward to commentating on some memorable and historic sporting moments."
He added: "It is fantastic to see another world-class sporting event being held in Scotland, which has such a great track record of hosting major international events.
"The Glasgow 2014 Commonwealth Games was a huge success and I am sure this innovative new multi-sport format for the European Championships will help to elevate it to a whole new level."