Candlelit Vigil Planned For Stabbed Student
29 October 2015, 09:57 | Updated: 30 March 2016, 13:50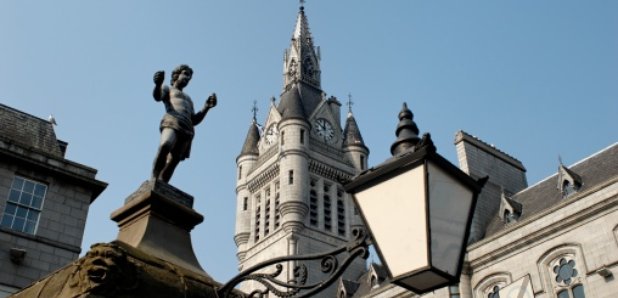 A candlelit vigil is to be held following the "shocking'' death of a teenage boy after a stabbing at school.
Cults Parish Church in Aberdeen will host the event on Thursday night following the death of the 16-year-old boy at nearby Cults Academy.
Rev Ewen Gilchrist said he is opening the church to provide a "sanctuary where people can come'' following the death of student Bailey Gwynne.
The teenager was rushed to Aberdeen Royal Infirmary with serious injuries after police were called to the school in the west of the city at about 1.30pm on Wednesday. He died a short time later.
Rev Gilchrist, part of the school's chaplaincy team, told BBC Radio Scotland's Good Morning Scotland: "We will be opening the church all day today and there will be a vigil at 8 o'clock tonight which is for pupils, staff, folk in the community who are trying to come to terms with a terrible event.
"It is shocking and it must take time to sink in, there is no script that prepares a community for this, there is no school that would immediately be able to take this in its stride.
"The chaplaincy team will offer whatever support they can to staff, teachers and pupils.''
He said the local community would rally round those who are struggling to come to terms with events at the secondary school, although Rev Gilchrist said ``healing will take time''.
But he stressed: "The community is very supportive, the wider community, people will quietly keep an eye on each other, that's what we would expect people to do and the churches will do what we can to be part of that process.''
Members of the school chaplaincy team are meeting to plan the vigil, and Rev Gilchrist added: ``We will try to respond to the question and the needs of folk in our community.
``If folk wish to discuss these things we're here to listen, we're not there to analyse, we're not there to scrutinise, but we open the church building, which is right beside the school bus stop, we open that so there is a safe place, a warm place, a sanctuary where people can come. It can be for listening, it can be for sharing, it can be for prayer.''
A large police presence remains at Cults Academy and dozens of floral tributes have been left at the school gates with some pupils and members of the public arriving since around 8am to pay their respects.
One handwritten message left among the flowers read: "Bailey, forever in our hearts. My thoughts are with your family at this tragic time and with my fellow students who have shock and despair at you leaving us.
"The empty seat you leave behind in class will always be a reminder of the silent but kind boy who I took for granted seeing everyday.
"I hope now you are in a better place.''
Aberdeen City Council deputy leader Marie Boulton, who has children at the school, said there is "utter shock, disbelief and desolation'' at the death.
"Nobody could've foreseen anything like this ever happening, people are still waking up this morning pinching themselves and asking 'did this really happen?''', she said.
"The devastation can't be underestimated but we're a strong community and we'll be supporting each other through this tragic, tragic time.
"I have received messages from across the community and far outwith the city who know how close we are and saying that they are there for us.
"It's a very good school - it was before and it will be after this, we've just been caught up in a very, very tragic incident.
"The school is closed for the next two days and we'll be getting supporting and counselling in for pupils who need it.
"I know there are a lot of pupils arranging themselves to get together to support each other and many parents I've spoken to are making sure they are at home with their children.
"As a parent myself we were all sitting very close last night.''
Scotland's Public Health Minister Maureen Watt, who is also a local MSP, told BBC Radio Scotland: ``It's just so sad, it's just unspeakable. Everybody is just devastated in the community. To send your children off to school and then for one of them not to come back is unbelieveable.''
She described the academy as the best-performing school in the city with highly-motivated pupils and teachers.
And on the issue of school safety, she added: "School safety is always reviewed. We know that schools in Scotland are very safe. It's very difficult to get in without getting through the main entrance and reporting at reception.
``It's a very isolated incident but I'm sure reviews will take place as a result of this.''
In a statement, Cults Academy Parent Council said: "We are deeply shocked and saddened following the tragic death of a pupil at our school. On behalf of the Parent Council at Cults Academy, we wish to extend our sincerest sympathies to his family and friends. We cannot begin to imagine their suffering.
"Cults Academy is a very trusted and highly reputable seat of learning for our young people and it is beyond belief that such a tragedy has taken place in our school community.
"We would like to offer our full and continued support to head teacher Anna Muirhead, her teaching staff and all of our pupils as they come to terms with what has happened.''