Calvin Harris Smashes T In The Park
10 July 2016, 08:12 | Updated: 10 July 2016, 08:20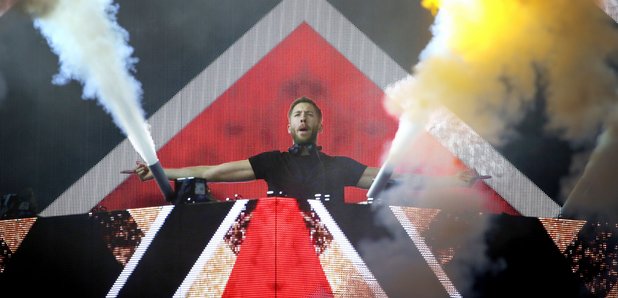 Calvin Harris wowed fans with a hit-filled headline set at T in the Park.
He performed hits including Feel So Close, I Need Your Love and Summer.
Dizzee Rascal joined Harris halfway through the set to perform their new collaboration Hype.
Harris pumped up the crowd, telling them "Let me see your hands T in the Park''.
Fans were in high spirits for the set although a number of flares were set off in the crowd, causing some alarm to security staff.
Day two of the event also saw performances by Jess Glynne, Bastille, Kaiser Chiefs and Travis.
Organisers hailed the "good spirits'' of crowds despite heavy rainfall on Saturday afternoon which turned the Strathallan Castle estate in Perthshire into a mud pit.
Director Geoff Ellis said: "Despite a bit of rain, the crowds are in good spirits and enjoying a great day of music.''
Earlier revellers have been urged to dump their drugs in special amnesty bins set up at the site following follows the deaths of two teenagers at this year's event.
The 17-year-olds were named locally as Peter MacCallum from Lochgilphead, Argyll, and Megan Bell from the north of England.
Police are looking at the possibility that the deaths were drug-related.
A tweet issued by festival organisers said: "Look after each other. If you or your friends feel unwell, get help right away from any festival staff.
"There's no safe way to take drugs. Don't take the risk.''
Tributes have been paid online to the teenagers.
Ruth Bond wrote on Twitter: "Absolutely wiped, poor girl taken far too soon. RIP Megan, hearts go out to her family and friends xxx.''
Callum Talbot said Megan was "such a lovely lass and gone too soon''.
Ellena Davies wrote: "RIP to one of my longest friends Peter MacCallum, so heartbreaking to witness something so horrible.''
Officers have warned people against taking illegal substances.
Chief Superintendent Angela McLaren said: "We are continuing to investigate these deaths and are following lines of inquiry, including the possibility that they may be drug-related. I would remind all persons attending the festival that there is no safe way of taking drugs.
"Anyone who has any concerns for themselves or others at the festival should contact festival staff, police officers or medics for assistance.''
Meanwhile, police have appealed for information after a cash machine was stolen from the festival's main arena sometime between midnight on Thursday and 7am on Friday.
The ATM contained a "significant'' amount of cash, officers said, as they asked any witnesses to come forward.
A total of 23 people have been arrested since the festival started, mainly for minor offences.
Superintendent Conrad Trickett said: "The second day of the event has continued with a positive atmosphere, with most people enjoying themselves safely and responsibly.''
Nick Moore from the Scottish Ambulance Service said: "We've had 280 people presented to the hospital tent with the vast majority of cases being minor ailments.
"As always, we stress that revellers report to staff if they feel unwell or if they are concerned about a friend.''
The festival ends on Sunday night with headliners Red Hot Chili Peppers taking to the main stage.