MSP Hails Bid To Tackle Period Poverty With Free Sanitary Products
14 August 2017, 14:35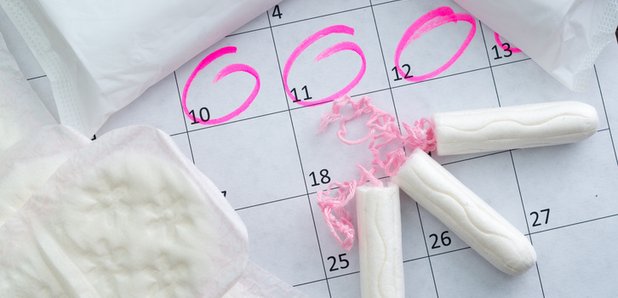 A proposal aimed at tackling period poverty in Scotland would be difficult to reject if the world is watching, according to the MSP behind it.
Labour's Monica Lennon launched a consultation on Monday for a members' Bill aimed at ending the problem.

The legislation would create a new duty on ministers to introduce a universal system of free provision of sanitary products.

In addition, schools, colleges and universities would be required to provide free items for women and girls in their toilets.

Under the proposals, that duty could be extended to other organisations at a later date, following a review.

Ms Lennon, Labour's inequalities spokeswoman at Holyrood, said: "Periods don't take into account what you have in your purse or your pocket. They happen when you're at work, in the classroom and that gym class you've been avoiding. Periods can occur at any time or any place, whether you're 10 years old or 50 years old.

"Period poverty is a global crisis, but it's a problem here in Scotland too. Period poverty isn't new but it isn't going away. That's why I am proposing a change in the law to tackle it.

"The hard work really begins now, the last year has just been a warm up to this.

"If people feel like Scotland is doing this already and the world is watching, if we just keep that pressure up, I think it's going to be very hard for MSP colleagues to say no."

As the system would be opt-in, not everyone who could is expected to take part in it.

Researchers from the Scottish Parliament Information Centre estimate a 10% uptake rate would cost between £1,777,000 and £2,210,000.

This is expected to come through Scottish Government budgets via allocation to other authorities and organisations.

The free products would be available to all people who menstruate.

Ms Lennon added: "There is a cost, we don't think it's a huge cost. But equally, there's a cost for not doing anything about it."

In July, the Scottish Government announced a six-month pilot project which will see free sanitary projects handed out to those in need in Aberdeen.

At least 1,000 women and girls from low-income homes should benefit from the trial, which ministers have supported with £42,500 of funding.

South Lanarkshire College in East Kilbride introduced free products for staff and students in January as a means to tackle stigma and improve focus.

Nicola Fisher, president of the Educational Institute of Scotland, backed the proposal.

She said: "For many young women, life in schools has gotten worse. We have seen a rise in misogyny, we have seen a rise in quite nasty phenomena such as slut shaming, we have sexual harassment in schools, we have young women being pressured to be involved in sexual activity that they don't want.

"The chance that you might become embarrassed by your body, embarrassed by something that should be natural, just adds an extra layer to all of that. In the midst of all that we are supposed to be closing the attainment gap and I just think it's one more barrier to that happening.

"This is a gender issue and it is a poverty issue and we must tackle it. The tentacles of poverty wind through and round a person's life in many invisible and unimaginable ways. This is one more and we have to put a stop to it."

Communities Secretary Angela Constance said: "It is unacceptable for any girl or woman not to have access to sanitary products. We are exploring how to make these products freely available and have backed a pilot project in Aberdeen to help develop a sensitive and dignified solution to this issue.

"I welcome Monica Lennon's work on access to sanitary products and will be happy to engage further with her as we look at what more can be done to tackle the issue, within the current powers of the Scottish Parliament."