'Caged' Christmas Tree Tweets From New Home
24 November 2018, 11:14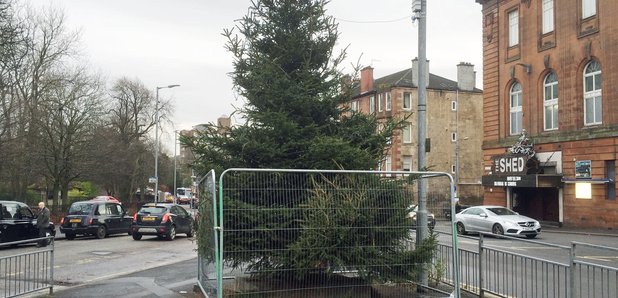 A Christmas tree which gained fame and its own Twitter account after it was "caged" has started tweeting again for the festive season.
The tree in the Shawlands area of Glasgow was moved to a new location last year after locals complained about its sorry appearance behind metal barriers on a traffic island in 2016.
Locals felt the fencing marred the festive spirit with some saying the tree looked "caged" and others branding it "hideous".
Last year it was moved to a location outside The Granary pub and has been placed there again this year.
It announced its arrival by tweeting: "Hello Shawlands folks" sparking dozens of likes and welcome back messages.
The tree, which as yet appears undecorated, is urging people to come along to the festive lights switch on which takes place on November 30.
The original traffic island where the Christmas tree was placed in 2016 no longer exists as the area is being transformed into a new public
square.