Braveheart Woke Something Up In Scotland, Mel Gibson Says
20 January 2017, 06:12 | Updated: 20 January 2017, 07:23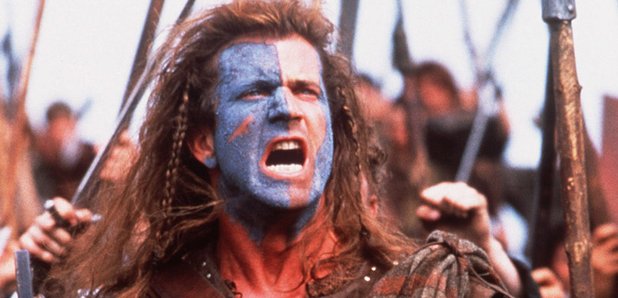 Mel Gibson believes his Oscar-winning film Braveheart ''woke something up'' in Scotland during the country's debate over independence.
The Hollywood star, who played 13th century Scottish warrior William Wallace in the 1995 movie, said the decision to devolve powers to Holyrood had been a ''good thing'' for Scotland.

But Gibson, 61, did not reveal whether he backed Scottish independence, saying he did not comment on the politics of other countries.

In an interview with the Press Association, Gibson said of Braveheart: ''It certainly woke something up there in Scotland. I know they achieved partial autonomy for that and I think it was a good thing.

''I like to stay out of the politics of other people's nations so I won't go further.''

The Scottish Parliament was created following the 1997 devolution referendum, while the 2014 vote on Scottish independence ended in favour of remaining part of the UK by 55.3% to 44.7%.

Gibson described Wallace as a ''butcher'' but said he saw similarities in Second World War hero Desmond Doss, the subject of his latest film Hacksaw Ridge.

Doss was the first conscientious objector to receive America's Medal of Honour after saving the lives of 75 men on a Japanese battlefield without carrying a gun.

''They're both men of conviction who were willing to die for what they believed,'' Gibson said.

''But Desmond was the pacifist, he wouldn't take another life, whereas Wallace was a butcher. He'd light people on fire.

''Desmond was far more evolved in solving the world's problems.''

Hacksaw Ridge, which is up for five Baftas next month, marked Gibson's return to directing for the first time in a decade following a string of controversies in recent years including his controversial anti-Semitic rant in 2006.

The Lethal Weapon actor said he decided to return to work as a director because Hacksaw Ridge was a ''story well worth telling''.

''It's a war film but it's beyond that, it's a love story,'' he said.

''It's a man who goes to war with his core belief - love. He wants to help others and he considers others more important than himself. So in that way he's selfless, he sacrifices and he surely did.

''He saved many and the inspirational aspect of the story is huge so why wouldn't I tell a story like that? It's the pinnacle of heroism.''

Hacksaw Ridge is released in UK cinemas on January 27.