Bin Lorry Inquiry To Continue
19 August 2015, 16:14 | Updated: 30 March 2016, 13:50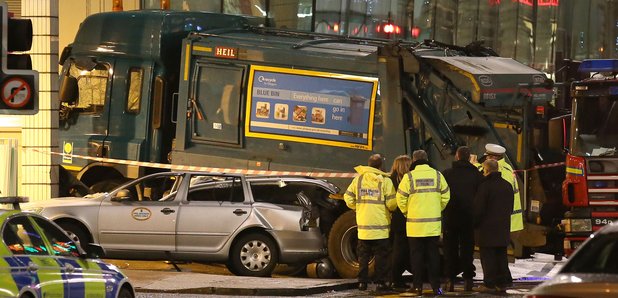 An inquiry into the Glasgow bin lorry crash will continue after a motion to have proceedings adjourned was withdrawn by the family of one of the victims.
The development means driver Harry Clarke will likely give evidence to the fatal accident inquiry at Glasgow Sheriff Court.

Earlier this week, relatives of Jacqueline Morton, 51, who was killed in the crash, said they would seek to bring charges against Mr Clarke, 58, after prosecutors ruled out doing so.

Lawyers acting for her family requested that the inquiry into the December 22 tragedy be adjourned in order to seek authority to bring a rare private prosecution against him.

However Dorothy Bain QC, representing the family of Ms Morton, today told the inquiry, now in its fifth week, that they had withdrawn the motion to have the inquiry adjourned.

Ms Bain said: "May I say that the family are finding these proceedings stressful and most worrying and having regard to further discussions and understanding the other families positions, the Morton family are now not insisting on this motion."

Mr Clarke was behind the wheel of the council refuse truck that veered out of control on a busy shopping street, killing Ms Morton, from Glasgow, and five others.

The inquiry has heard evidence that he has a history of dizzy spells and fainting which he failed to disclose to the DVLA and on job application forms.