Bin Lorry Inquiry Hears Victim Statements
25 August 2015, 11:41 | Updated: 30 March 2016, 13:50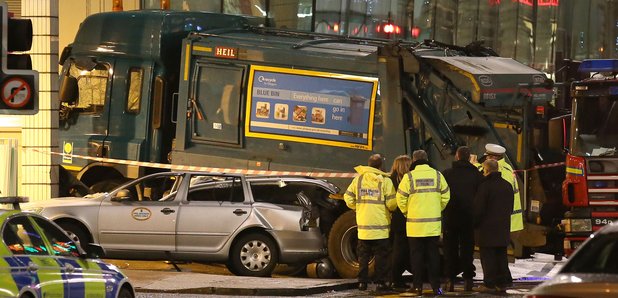 Many survivors of the Glasgow bin lorry crash have struggled to return to the scene of the tragedy which claimed the lives of six people, a fatal accident inquiry has heard.
A series of victim impact statements read at Glasgow Sheriff Court detailed the horrific injuries many suffered and the impact it has had on their lives.
Alix Stewart, who was 14 at the time of the crash, was meeting friends in Royal Exchange Square when she was hit by the bin lorry and dragged under it to George Square.
A statement written by her father Colin detailed how she suffered a catalogue of injuries including a broken collar bone, ribs, femur and three spinal bones.
Her right ear was also torn off and all the skin was "scraped off her back'' leaving her with a "road tattoo'' - permanent scarring with grit from the road embedded under the skin.
Her father told how the 14-year-old had been picked for the Scottish basketball team only days before the crash on December 22 last year.
She did not play the sport for seven months and was off school for an extended period, but has since returned and has also been picked for the Scotland team once again.
Mr Stewart said his daughter does not remember being hit by the lorry but can remember being dragged along the road and thinking "please don't let me die''.
Mr Stewart's statement read: "She has returned to George Square only once since and she told me she wouldn't go back.
"She is also anxious when she sees a bin lorry and starts shaking.
"I also shiver.''
Irene McAuley also submitted a statement on the impact of the crash on her life.
The 18-year-old said she remembers waking up on Queen Street after the crash.
She suffered a broken ankle and also lost a number of teeth. She also required a bone graft from her hip to her jaw.
Ms McAuley said she now avoids Royal Exchange Square but has found it difficult as she studies in Glasgow.
She also said that when she drives now she "visualises every crash she could be involved in''.
Her statement read: "I found myself more anxious and couldn't go near a bin lorry. I had nightmares for weeks after the crash and they still return.''
Marie Weatherall, 64, spent a month in hospital after the crash and has had pins inserted in her leg and arm.
She said the crash had taken away her "confidence and motivation'', and being in hospital meant she missed her grand-daughter's first Christmas.
Her statement said: "I think about the people who died all the time and it upsets me.
"I feel as though my life has been put on hold since the incident.''
Elaine Morrell, 49, suffered four facial fractures in the crash and has had a titanium plate fitted.
She said she avoided leaving the house for four months after the crash.
She said in her statement: "I've started walking in Glasgow city centre with company now but it's taken a long time to get to that stage.
"I'm getting nearer George Square but I can't go back yet.''
Ms Morrell has not returned to work in her city-centre office as it overlooks the scene of the crash.
Erin McQuade, 18, and her grandparents Jack Sweeney, 68, and Lorraine Sweeney, 69, from Dumbarton, West Dunbartonshire, Stephenie Tait, 29, and Jacqueline Morton, 51, both from Glasgow, and Gillian Ewing, 52, from Edinburgh, were killed as the lorry driven by Harry Clarke veered out of control during a routine rubbish collection.
The final witness to give evidence to the inquiry was Robert Donnelly, 62, a former depot manager at First Bus.
Solicitor General Lesley Thomson QC asked Mr Donnelly if he had completed a reference for Mr Clarke when he left First Bus for a job at Glasgow City Council.
The retired 62-year-old said he had responsibility to respond to reference requests when his line manager was off but that he had never actually had to write one.
Mr Donnelly was asked if he was sure and responded: ``I'm certain.''
A joint minute was then read to the court after which Sheriff John Beckett asked: ``Does that close the evidence as far as the Crown is concerned?''
The Solicitor General said ``yes'', with closing submissions from each party to be read to the inquiry.