Bin Lorry FAI Closed
28 August 2015, 14:13 | Updated: 30 March 2016, 13:50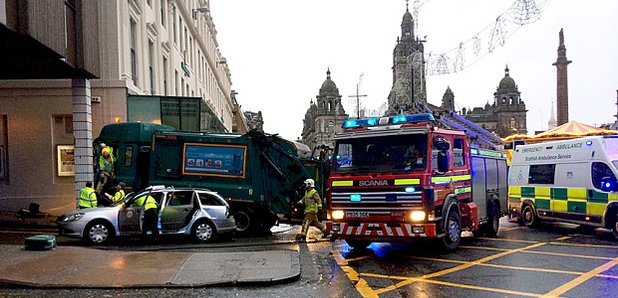 A fatal accident inquiry into the Glasgow bin lorry crash which left six people dead just before Christmas has heard the driver would carry what happened with him for the rest of his days as it closed.
Harry Clarke, 58, lost consciousness at the wheel of the truck on December 22 last year.
While called to give evidence to the inquiry, he repeatedly refused to answer questions about a previous blackout in 2010 as he could face a rare private prosecution.
As the inquiry at Glasgow Sheriff Court drew to a close, his lawyer Paul Reid QC said: "Harry Clarke does not doubt for a moment the unimaginable grief, loss and sadness that the families of the victims must have suffered.
"He recognises that there is nothing I can say on his behalf that will offer comfort to the families.
"He did not set out that day to inflict such unimaginable loss. He is not a lying or deceitful man. He is a very ordinary man who has the failings of ordinary men.''
Mr Reid added: "He will carry this with him for the rest of his days.''
Sheriff John Beckett brought the inquiry to a close, advising he would issue a written determination.
He said the "extraordinary circumstances'' of the incident "require and deserve careful assessment''.
Sheriff Beckett said this would not be achieved in less than two months, but he would endeavour to be able to do so by January at the latest.
Erin McQuade and Jack and Lorraine Sweeney, from Dumbarton, West Dunbartonshire, Stephenie Tait, 29, and Jacqueline Morton, 51, both from Glasgow, and Gillian Ewing, 52, from Edinburgh, were killed as the lorry driven by Mr Clarke veered out of control during a routine rubbish collection.
A statement read outside the court on behalf of the Morton family said: "The last six weeks have been a difficult, stressful and at times upsetting experience for us as a family.
"Over the course of the last few weeks, the fatal accident inquiry has heard evidence around the actions of individuals and organisations which led to the tragic events of December 22 2014.
"The actions of Harry Clarke have been examined and explored in detail. The family feel that the answers that Mr Clarke could not give can be found in the evidence given by the other witnesses and documents laid before the inquiry.
"The inquiry has highlighted weaknesses in the system that makes it too easy for an individual to obtain and retain a driving licence when they are not fit to drive contrary to public safety. The actions of an individual cannot be allowed to lead to a tragedy on such a scale again.
"Nothing can undo what occurred last December, nor change the loss that we as a family have suffered, but it cannot be the case that another family is standing here next year, or the year after that, because something of this nature has happened again.
"We have heard all the evidence. It is time for Sheriff Beckett to consider it and come back with a determination.
"We would like to put on record our thanks to Sheriff Beckett for the way he has conducted this fatal accident inquiry.
"Above all, we remember and miss Jacqueline. A beloved partner of John, a much-loved mum of Adam and Scott, a daughter, sister, devoted grannie and a friend to all who knew her. She is sadly missed and will always be remembered.''