Bin Lorry FAI Begins
22 July 2015, 07:17 | Updated: 30 March 2016, 13:50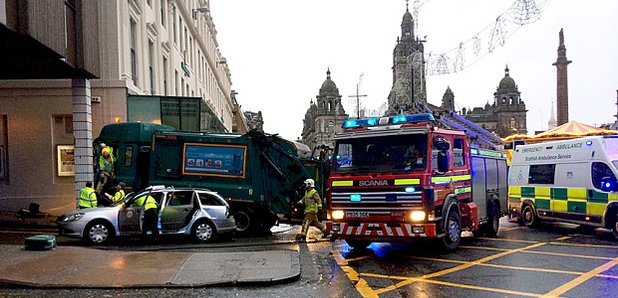 An inquiry into a bin lorry crash which killed six people days before Christmas will begin today.
The fatal accident inquiry (FAI) will examine the tragedy which happened in Glasgow city centre last year.
Erin McQuade, 18, her grandparents Jack Sweeney, 68, and his 69-year-old wife Lorraine, all from Dumbarton, West Dunbartonshire, died when the vehicle lost control in Queen Street on December 22.
Stephenie Tait, 29, and Jacqueline Morton, 51, both from Glasgow, and Gillian Ewing, 52, from Edinburgh, were also killed when the vehicle mounted the pavement before crashing into the side of the Millennium Hotel in George Square.
Ten people were also injured in the crash.
The two passengers who were in the lorry are expected to give evidence on the first day of the FAI which will take place at Glasgow Sheriff Court.
The inquiry will be led by Scotland's second most senior law officer, Solicitor General Lesley Thomson QC and will take place before Sheriff John Beckett QC.
It will focus on the driver's medical background, his fitness to hold a licence and his employment record and training.
The FAI will examine whether anything could have been done to bring the lorry to a controlled stop and explore the route it took, as well as considering technical aspects of the vehicle itself.
Earlier this year the Crown Office said that Harry Clarke, the driver of the lorry, will not be prosecuted over the incident.
Lawyers for some of the victims said they hope the inquiry will provide long-awaited answers.
Elaine Russell, a partner and serious injury specialist at Irwin Mitchell Scotland's Glasgow office who is representing the victims, said: "Around seven months on, there remain a huge number of questions regarding the sequence of events which led to this terrible incident.
"However, further answers are a vital part of allowing our clients and those injured and bereaved following the crash to move forward with their lives.
"Both those affected by the crash and the wider community in Glasgow will be hoping that the FAI provides vital information regarding the crash and that any such detail will be key to ensuring that steps can be taken to prevent such an incident from ever happening again.''
The inquiry is expected to last up to six weeks.