Bin Lorry Driver 'Could Have Taken Precautions'
26 August 2015, 11:58 | Updated: 30 March 2016, 13:50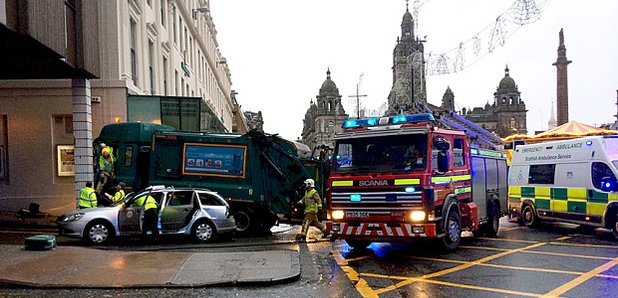 The driver of the bin lorry that crashed in Glasgow city centre killing six people could have taken nine "reasonable precautions'' to prevent the tragedy, an inquiry has heard.
Harry Clarke, 58, lost consciousness at the wheel of the truck as it veered off the road and hit pedestrians three days before Christmas last year.
A fatal accident inquiry into the deaths has previously heard how he failed to disclose his medical history, including a blackout while at the wheel of a stationary bus in 2010, when applying for a job at Glasgow City Council.
He refused to answer questions about his medical history when he appeared at the inquiry last week as he faces the prospect of a rare private prosecution.
In closing submissions to the inquiry, Advocate Dana Forbes - who is standing in for Dorothy Bain QC - said the family of Jacqueline Morton believe a host of opportunities were missed to prevent the accident.
Ms Forbes said: "the overarching question of this inquiry is this: why was Harry Clarke driving a refuse truck for Glasgow City Council on December 22 2014?
"The family of Jacqueline Morton believe the answer lies firstly with Harry Clarke himself.''
Ms Forbes told Sheriff John Beckett, who is overseeing the inquiry, that Mr Clarke could have taken nine reasonable precautions, including following guidance from the DVLA, providing a "full and truthful'' account of his collapse on a First Bus to GPs and completing later job applications and licence renewals honestly.
A number of reasonable precautions could also have been taken by doctors, Glasgow City Council and First Bus, Ms Forbes said.
Earlier, Solicitor General Lesley Thomson QC told the sheriff that he had a "unique opportunity to inform the public further'' on the issues of the tragedy due to widespread media coverage of the proceedings.
In her closing submission, Ms Thomson also highlighted reasonable precautions that could have been taken by Mr Clarke, doctors, the DVLA and Glasgow City Council to avoid the accident.
She said: "On the evidence we have heard, despite if the 2010 episode that been reported, it is likely that Mr Clarke would have had his licence returned long before 2014.''
She said he may not have been employed by Glasgow City Council but "he may have been driving another LGV that day''.
Ms Thomson recommended that the DVLA should request a public consultation on vehicle licensing and consider rewording guidelines for medical professionals and the public.
She also recommended that councils should fit all bin lorries with auto braking systems, make non-driving staff familiar with the controls and brakes of the vehicle, and carry out risk assessments on areas where there is an increased pedestrian presence.
Erin McQuade, 18, and her grandparents Jack Sweeney, 68, and Lorraine Sweeney, 69, from Dumbarton, West Dunbartonshire, Stephenie Tait, 29, and Jacqueline Morton, 51, both from Glasgow, and Gillian Ewing, 52, from Edinburgh, were killed as the lorry driven by Mr Clarke veered out of control during a routine rubbish collection.