Andy Murray's Newborn Daughter 'Doing Well'
9 February 2016, 17:17 | Updated: 30 March 2016, 13:50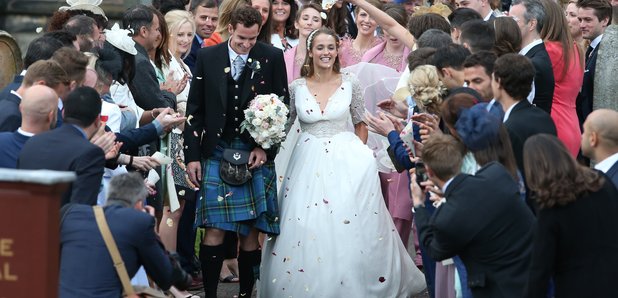 Andy Murray's newborn baby daughter is said to be "doing well'' as it was announced he and wife Kim Sears have become parents for the first time.
The Dunblane tennis player's partner gave birth to the girl on Sunday morning - news which prompted an influx of good wishes from fellow sports stars and members of the public.
No details have yet been revealed about the child's name.
Confirming news of the baby's birth, Murray's agent said: "Andy and Kim had a daughter in the early hours of Sunday morning and the family are doing well.''
No further details have been released from the Murray camp at this stage.
Andy's grandmother Shirley Erskine said she was thrilled at the arrival of the new addition to the family.
And she revealed the family had not known what sex the baby was going to be.
She said: "Andy and Kim said from the outset that they didn't want to know, so I'm assuming that they didn't know and of course none of us knew, so it was nice to get a little surprise like that.''
Mrs Erskine, the mother of Andy's mum Judy, said she received a text message from her grandson telling her about the birth.
"Andy had sent a text round all the family - one of these multimedia-type texts - and then I got a text from him saying something about 'she's doing well' and I thought, 'Oh something's happened','' she told the broadcaster.
She said there was no name yet for the baby and voiced hope the couple would head to Scotland with their child.
Judy touched briefly on the news in a light-hearted Twitter exchange with Scots stand-up comedian Fred MacAulay.
In a message to Judy, the comedian wrote: "Delighted to hear Andy And Kim Murray's lovely news. @judmoo ... surely a cert for 2016 GlamGran comp at Butlins.''
Judy replied: "Love it.''
Hundreds of messages of support for the family have been posted online from members of the public.
And well-known figures have offered the couple - who married last year - their congratulations.
Scotland's First Minister Nicola Sturgeon tweeted: "Lovely news. Congratulations to @andy_murray and Kim on the birth of their daughter. Wishing every happiness.''
Former world number one tennis player Boris Becker said: "BIG Congrats to Kim/Andy for the arrival BabyMurray !!!''
Former British tennis star Annabel Croft, paralympic wheelchair tennis players Lucy Shuker and Jordanne Whiley and former Olympic champion Sally Gunnell were among the fellow athletes sending their early congratulations to the couple.
Organisations British Tennis, Team Scotland, the Elena Baltacha Foundation and the Davis Cup gave their best wishes to the new parents.
Broadcaster Gabby Logan said: "Kim and Andy Murray have had a baby girl - huge congrats.'' And in a note to Judy, the presenter added: "@judmoo - great news for Fed Cup team 2036.''
The birth of the couple's first child comes after a momentous 12-month period for Murray, the British number one and a double grand slam winner.
The long-term couple, who live in Surrey and are both 28, married in Murray's home town of Dunblane in April last year.
Kim's pregnancy was confirmed publicly in August after they had told family and friends the news, following the 12-week scan.
Murray spoke ahead of the Australian Open about the upcoming birth.
"Just now it's a big change coming. It's very, very exciting,'' he said.
The Scot made it clear in January that he would have cut short his first grand slam of the year and flown home if the baby had arrived earlier than expected.
He said: "For me, my child is more important to me, and my wife is more important to me than a tennis match.''
Murray did make it to the final and tearfully told Kim she was "a legend'' and that he would be on "the next flight home'' after being beaten to the title by Novak Djokovic.
On the tennis court in 2015, Murray reached the semi-finals of the French Open and Wimbledon, and won his first titles on clay.
He rounded off the year by steering Great Britain to its first Davis Cup title in almost 80 years. He was also crowned BBC Sports Personality Of The Year for a second time.
As well as making it to the 2016 Australian Open final, he watched his brother Jamie become the first Briton to win the Australian Open men's doubles title in more than 80 years.
Judy has said she will be taking a step back from tennis to focus on her new grandchild.
She said she would make the newborn a priority in her life after missing out on important family moments because of her coaching career.
The 56-year-old told Hello magazine: "I shall be an active granny. My mum Shirley was very involved with Jamie and Andy when they were growing up and I hope to be the same with my grandchild.''
Despite encouraging Andy's talents in the sport, she said she will leave teaching tennis to the new arrival to the baby's father, currently ranked second in the world.
"I don't think I could go through all that nurturing of talent again.
"It takes years of dedication and sacrifice, and now I just want to enjoy time with my family,'' she said.