Andy Hopes His Best "Is Enough"
20 November 2016, 08:11 | Updated: 20 November 2016, 08:17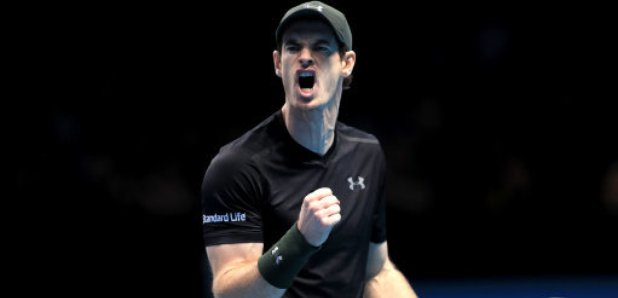 Andy Murray will give everything he has left against Novak Djokovic this evening and hope it is enough.
The top two players in the world will do battle for the number one spot in a fitting climax to the season at the ATP World Tour Finals after reaching the O2 Arena showdown in contrasting fashion.
Djokovic, who came into the tournament on his worst run of form for several years, certainly has the spark back and demolished Kei Nishikori 6-1 6-1 in just an hour and six minutes.
That was a full two hours and 32 minutes less than it took Murray to battle past Milos Raonic 5-7 7-6 (7/5) 7-6 (11/9) in one of the most extraordinary contests of the year.
Four days after his three-hours-and-20-minutes epic against Nishikori, Murray again broke the record for the longest three-set match in the history of the tournament.
The Scot no doubt would rather not have his name inked in the history books in this way for, as remarkable an athlete as he is, he has surely severely compromised his chances of lifting the trophy and therefore holding onto top spot.
Murray immediately went into recovery mode, spending 10 minutes in the ice bath before a session of stretching and a massage from physio Shane Annun.
He said: "I don't know how I'll feel tomorrow. Obviously I'm tired just now because it was a really hard match. It wasn't just that it was physically hard, it was mentally a tough match, too. It was pretty stressful.
"I was quite far behind obviously in the second set. A set and a break down, I managed to turn it round. Then it was back and forth in the third set.
"Obviously tomorrow is the last day for a while, I get a break after that. I'll just give my best of what I've got. Hopefully it's enough."
Murray has under-performed at the O2 Arena since the tournament moved here in 2009, reaching the semi-finals on just two previous occasions.
But he has made up for that this year with four victories out of four and an awful lot of heart.
This one was the most incredible of the lot, with Murray battling fatigue throughout and an inspired opponent.
Raonic, known for his booming serve and forehand, went toe-to-toe with Murray on the backhand and returned at a level way above what he has shown before.
The Canadian deservedly won the opening set and had Murray in a big hole at 2-1 and a break down in the second.
Raonic then played one of his few poor games to give away his advantage but Murray still needed to come up with some magic, not least a backhand half-volley winner off his toes, to win the tie-break and level the match.
The tension continued in the decider until the top seed broke for 5-4 with what appeared the crucial move.
But, not only did Raonic break back, he then did it again the second time Murray served for the match.
The tie-break had the packed crowd living every moment. Murray held match point at 6-5, 7-6 and 8-7. Raonic saved them all but could not take his one and only chance and, when he netted a forehand three points later, finally it was all over.
It will be the first time since ranking points were first awarded at the tournament in 1990 that the number one ranking has come down to the final match, and the script could not have been written better.
Murray will pit his 23-match unbeaten run, a new career high, against Djokovic's amazing record of having won 22 of his last 23 matches at the O2 Arena.
The Serbian, who is looking to match Roger Federer's record of six titles and win his fifth in a row, said: "This has never happened in the history of tennis.
"I'm privileged to be part of history. This is one of the biggest matches we will ever play against each other."
Should Murray pull it off, it would be the final rubberstamp on his ascent to the top of the tennis world.
He has not played Djokovic since losing the French Open final in June, his 24th defeat in 34 meetings with his former junior rival.
Murray said: "You can only beat the players that are in front of you. I've done that this week. I've beaten three guys in the top five in the world, which some people were not happy that I hadn't won against the top five players.
"Then it will be the top two players, then top one. There's always something that's wrong with what you're doing."