Landfill Search Resumes For Corrie McKeague
23 October 2017, 12:13 | Updated: 23 October 2017, 12:23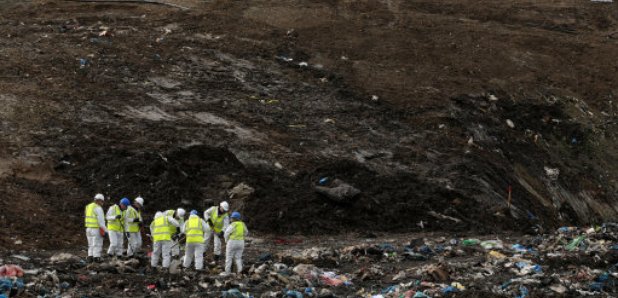 Police have resumed their landfill search for missing RAF gunner Corrie McKeague.
The 23-year-old was last seen walking through Bury St Edmunds, Suffolk, after a night out with friends.
A five-month search of a landfill site was called off in July after no evidence of his body was found.
The latest search, likely to take around four to six weeks, will concentrate on an area next to the site of the earlier search.
The new search area, in Milton, Cambridgeshire, is the next most likely place where Mr McKeague could be found, Suffolk police said.
Officers were seen scouring the area as a digger moved the rubbish.
Mr McKeague, from Fife, Scotland but based at RAF Honington in Suffolk, was last seen on CCTV at 3.25am on September 24 2016.
Detective Superintendent Katie Elliott said: "Throughout this rigorous investigation we have remained committed to following all reasonable lines of inquiry in our endeavours to discover what has happened to Corrie.
"Confronted by the variances in the way waste can be deposited and through further investigation we cannot discount the possibility Corrie may be elsewhere in Cell 22.
"Therefore, we believe our decision to extend the search area is the correct one."
A bin lorry was caught on CCTV near Brentgovel Street in Bury St Edmunds around the time Mr McKeague was last seen.
It took a route which appeared to coincide with the movements of his phone.
The bin lorry linked to Mr McKeague's disappearance was initially thought to have collected a 24lb (11kg) load, but police said it was later found to be more than 220lb (100kg).
Mr McKeague's girlfriend, April Oliver, announced in June that the missing serviceman had become a father with the birth of their daughter.