Alcohol A Factor In 3,700 Deaths
1 February 2018, 07:33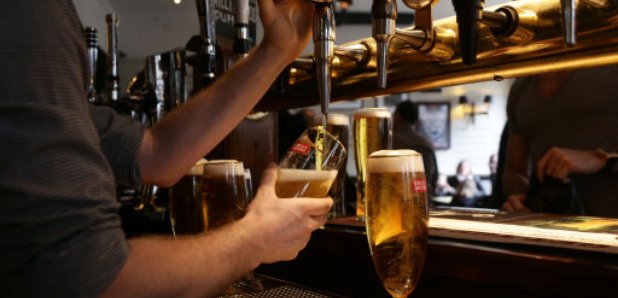 Alcohol was a factor in more than 3,700 deaths in a single year in Scotland, according to new research.
Findings from NHS Health Scotland show that drink was involved in more than 1,000 deaths from cancer in 2015 and hundreds of deaths from conditions such as liver disease, as well as accidental injuries.
In addition, more than 41,000 people were admitted to hospital in the same year as a result of consuming alcohol, the study found.
Experts said the findings show that alcohol has a wider impact on health than many people think.
The full report is being published on Thursday.
Excerpts of the report issued ahead of the publication by NHS Health Scotland show the body looked at the number of deaths and hospital admissions caused by alcohol consumption in 2015.
It also looked at what people were dying from or the alcohol-related conditions that were making them ill.
The analysis found that alcohol contributed to a total of 3,705 deaths that year.
More of these deaths were from cancer (1,048) than liver disease and pancreatitis (812).
Other fatal conditions linked to drinking were heart conditions and strokes (544), pneumonia (454) and unintentional injuries such as falls (357).
Furthermore, 41,161 patients were admitted to hospital due to alcohol in 2015, with accidental injuries accounting for more than a quarter of that total, at 11,068.
Mental ill health and behavioural disorders (8,509) were the next most common reasons for hospital admissions connected to drinking.
Elaine Tod, public health intelligence adviser at NHS Health Scotland, said: "Overall, the results tell us that alcohol consumption has a significant impact on health in Scotland - in fact, it contributed to over 100,000 years of life lost due to early death or living in poor health in 2015. Alcohol has a wider impact on our health than many people think.
"Reducing harmful alcohol consumption will reduce this impact and that would benefit everyone: drinkers and non-drinkers, children and families, communities, the NHS and emergency services, employers and the economy.
"Preventative action is necessary if Scotland is to make long-term reductions in alcohol-related harm."
Professor Linda Bauld, Cancer Research UK's prevention expert, said the figures are concerning.
"Alcohol is linked to seven types of cancer including breast and bowel cancer, and the more you drink the greater your risk of cancer," she said.
"Yet we know public awareness of the link between alcohol and cancer is low. Much more needs to be done to increase public understanding."
Public Health Minister Aileen Campbell said: "This report highlights not just that excess alcohol consumption in itself kills, but that it contributes to so many diseases and conditions that can lead to poor health and early death.
"While huge progress has been made in recent years in tackling alcohol misuse, we want to go further - which includes Minimum Unit Pricing for alcohol which will be introduced in May this year. Our framework for action outlines more than 40 measures to reduce alcohol-related harm."
Alison Douglas, chief executive of Alcohol Focus Scotland, said: "This research shows that alcohol causes around one in 16 deaths in Scotland.
"These deaths can be from falls, road traffic accidents and alcohol poisoning, as a result of one bout of drinking. Others, such as mental illness, stroke and cancer, are likely to be the result of drinking over longer periods.
"It's not just 'alcoholics' who suffer - we need to stop kidding ourselves it's someone else's problem."