Air Tax Proposals Backed In Scottish Parliament
20 June 2017, 18:32 | Updated: 20 June 2017, 18:33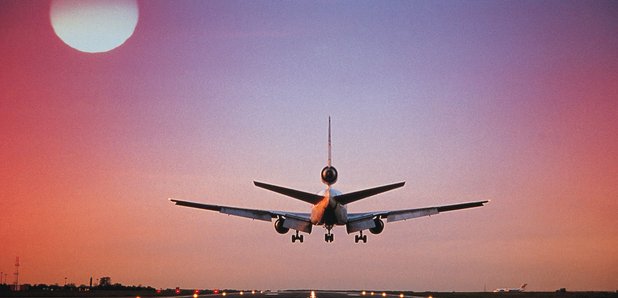 Holyrood has overwhelmingly passed legislation establishing a new tax to replace air passenger duty in Scotland.
MSPs approved the Bill to create air departure tax (ADT), which will now come into force from April 2018, by 108 votes to 11.
It paves the way for the Scottish Government to fulfil its commitment to cut the levy in half by the end of this Parliament, ahead of abolishing the charge altogether ''when resources allow''.
Ministers will set out the rates and bands for the new charge in autumn this year - with these also having to be approved by MSPs.
Scottish Greens voted against the legislation and warned that without a rethink on plans to slash the current charges, the party's six MSPs may not deal with ministers when it comes to budget talks next year.
The minority SNP administration relied on votes from the Greens to pass its Budget for 2017-18.
After the Bill was given the go-ahead, Green MSP Andy Wightman said: ''While this Bill creates a legal framework for a new tax but does not set the rate, Greens cannot support legislation with such weak environmental, economic and social criteria.
''It's not too late for Scottish ministers to rethink their approach and bring a better Bill to parliament.
''The minority SNP government knows it needs support to pass next year's budget and unless it indicates a change of approach on this regressive policy, it's hard to see how we can engage with them.''
Finance Secretary Derek Mackay insisted Tuesday's debate was ''not about tax rates and bands'' - although he stressed the Government ''remains of the view that our approach whereby the overall burden of the tax is reduced by 50% by the end of this session of Parliament and the tax is abolished when resources allow will deliver strong economic benefits for Scotland''.
He told MSPs: ''Today we're not debating that policy, we're debating the ability to collect this tax in Scotland.''
The introduction of another devolved tax is ''another important milestone on the journey to enhance Scotland's fiscal powers'', the Finance Secretary said.
He stated: ''The Scottish Government's plans for ADT are a key part of our economic strategy for sustainable growth - in particular boosting trade, investment, influence and networks.
''Scotland is already an attractive destination for business and inbound tourism, but it is important, particularly given the economic threat posed by Brexit, that we continue to be open to key and emerging markets in order to further capitalise on the opportunities that exist.
''Our airports are competing on a world stage to secure new routes and capacity.
''Reducing the tax burden helps ensure a more level playing field with many other European airports competing to secure the same airlines and similar routes.
''New routes will enhance business connectivity and tourism as well as providing new jobs.''
Tories supported the legislation, with Murdo Fraser confirming the party's support for the ''ambition of an overall 50% reduction in ADT rates''.
He argued these reductions should be targeted at long-haul flights instead of being made across the board.
Mr Fraser said: ''There would be a greater economic benefit in reducing the tax on long haul because the evidence shows those travelling long haul tend to stay in Scotland longer than those travelling short haul, and tend to spend more money while they are here.
''In addition, there is the opportunity if we can cut the cost of long haul of attracting more long-haul operators to base themselves in Scotland, thus reducing the need for Scottish passengers to make connecting flights to hub airports in places like Heathrow or Amsterdam.''
Labour transport spokesman Neil Bibby said the party had only backed the legislation because ''otherwise it would not be possible to levy any air departure tax at all''.
He added: ''We do not support the SNP's proposal to cut the current rate of ADT by 50%, nor its ultimate aim of abolishing ADT altogether.
''Not only will this be damaging for the environment, but it will put pressure on the public purse too.
''There can be no justification for a tax cut for frequent flyers while #1.5 billion has been cut from local services since 2011. Nicola Sturgeon must explain who is going to foot the bill for this airline tax cut.''