Africa Famine Appeal From DEC
15 March 2017, 06:14 | Updated: 15 March 2017, 06:16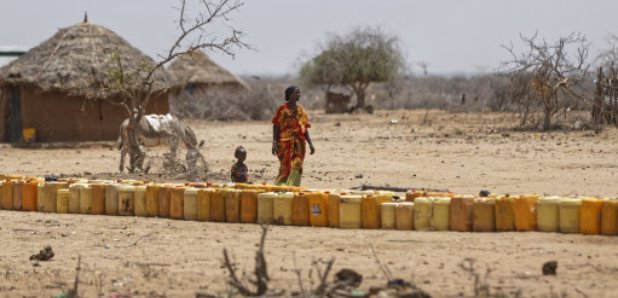 A major fundraising appeal to help millions of people facing starvation in east Africa has been launched by the Disasters Emergency Committee.
Scots are being urged to donate to help more than 16 million people in South Sudan, Somalia, Kenya and Ethiopia, where drought and conflict have left them in immediate need of food, water and medical treatment.
More than 800,000 children under five in the region are severely malnourished and are at risk of starving to death without immediate treatment.
Disasters Emergency Committee (DEC) member charities are already on the ground delivering life-saving aid, such as food, treatment for malnutrition and clean drinking water.
They are ready to scale up their humanitarian support but need more funding to reach the millions of people in urgent need, DEC officials said.
Neil Mathers, chair of the DEC east Africa crisis appeal in Scotland, said: ''Hunger on a massive scale is looming across east Africa.
''More than 800,000 children under five are severely malnourished. Without urgent treatment, they are at risk of starving to death.
''We are hearing that families are so desperate for food that they are resorting to eating leaves to survive. This is something no family should have to endure.
''Unless we act now the number of deaths will drastically increase. Don't delay - please donate.''
To make a donation to the DEC east Africa crisis appeal visit www.dec.org.uk, call the 24-hour hotline on 0370 60 60 610, donate over the counter at any high-street bank or post office, or send a cheque.
You can also donate £5 by texting the word SUPPORT to 70000.
The UK Government will match pound for pound the first £5 million donated by the public to the appeal.
The DEC brings 13 leading UK aid charities together in times of crisis: ActionAid, Age International, British Red Cross, CAFOD, CARE International, Christian Aid, Concern Worldwide, Islamic Relief Worldwide, Oxfam, Plan International UK, Save the Children, Tearfund and World Vision.
Money raised will support the efforts of DEC member charities to reach affected families and communities.
The appeal, launching on Wednesday March 15, will be shown on all major UK broadcasters including BBC, ITV, Channel 4, Channel 5 and Sky.
Meanwhile, the Scottish Catholic International Aid Fund (SCIAF) is working with local organisations in South Sudan and Yemen to get emergency food supplies and water to those in need.
SCIAF director Alistair Dutton said: ''An appalling catastrophe is unfolding before our eyes in east Africa.
''In South Sudan alone over a million people face the very real possibility of starvation in the weeks and months ahead. Many other countries and their people face a similar fate.
''The simple truth is unless we increase the emergency food aid to the region now, many innocent men, women and children will die.
''I urge everyone to please give whatever they can to help us get more food, water and other essential aid to those in need.''
People wishing to make a donation can contact SCIAF at www.sciaf.org.uk or call 0141 354 5555.