8,000+ brave sub-zero temperatures to help homeless
10 December 2017, 07:23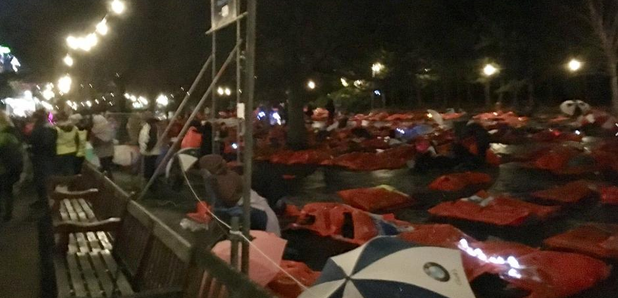 Scottish Deputy First Minister John Swinney and Sir Bob Geldof joined thousands of people who slept out in freezing conditions in Edinburgh to raise money to tackle homelessness.
More than 8,000 people braved icy temperatures and spent the night in the city's Princes Street Gardens as part of "the world's biggest sleepout", with donations so far topping £3.6 million.
Stars signed up to perform at the Sleep in the Park event included Liam Gallagher, Deacon Blue, Amy Macdonald and Frightened Rabbit.
John Cleese performed a bedtime story while Geldof slept out and addressed the audience.
Mr Swinney, Communities Secretary Angela Constance and Housing Minister Kevin Stewart also spent the night in the gardens.
Event organiser Josh Littlejohn, co-founder of Social Bite which helps the homeless through cafes, a restaurant and fundraising events, said he was "humbled" by the support.
He added: "Tonight was the night when people from all walks of life came together in Scotland, to stick up for the most vulnerable people among us. This is the night that we collectively gave a voice to the people who have never had one.
"There are 11,000 homeless households in Scotland. When I think about all of the amazing different people, sleeping in this garden tonight, the one thing that strikes me about these statistics of homelessness is that they are not insurmountable.
"Scotland is a small enough country, a compassionate enough country and a collaborative enough country, where nobody has to be homeless here. If we put our heads together, we can wipe out homelessness in five years."
He said the famous names lend "excitement" to the occasion but people had turned up for the cause of tackling homelessness rather than as music fans.
Before the event, he said: "This concept of sleeping in the cold is such a daunting thing in people's mind that it trumps Liam Gallagher and it trumps anyone else, but it just helps lend that level of excitement and gets people engaged in the issue, so we're really grateful for everyone that's turned out to support."
Mr Littlejohn said he hoped the event would lead to a structural change in homelessness in Scotland to the Housing First model, following pledges that around 475 homes for homeless people will be provided across the central belt by the EdIndex Partnership and Wheatley Group.
He said: "That's almost 500 homes in the central belt alone that have been offered and that's going to get people out of sleeping rough, out of hostels and out of the homeless system and give something that we all take for granted, which is a stable place to call home."
He said the charity would fund a support package for those in the new homes and it has already donated £25,000 of sleepout cash to fund extra capacity at a winter care shelter.
Amy Macdonald said: "It seems absolutely ludicrous that in 2017 that people are still sleeping out on the streets. It doesn't seem like it would be that difficult to stop. Hopefully the money goes a long way to try and help that.
"It's just crazy in this day and age, it shouldn't happen any more and it's really great that there are charities like Social Bite willing to try and help, and try and make a difference."
Gallagher tweeted: "Edinburgh you are mega had a top time lovely city seen bits that I didn't know existed don't go changing as you were LG x"
Fundraising is open until Christmas Eve and donations can be made at www.sleepinthepark.co.uk.