3 Children Seriously Hurt In M&D's Crash
27 June 2016, 08:59 | Updated: 27 June 2016, 09:18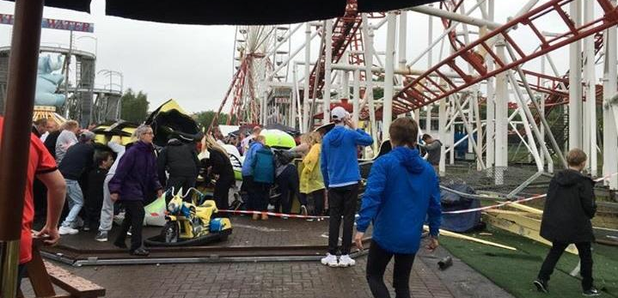 Three children were seriously hurt in a theme park rollercoaster crash which saw a total of 10 people taken to hospital.
Eight children and two adults were taken to hospital after the Tsunami ride derailed and hit the ground at M&D's amusement park at Strathclyde Country Park, Motherwell, North Lanarkshire, on Sunday afternoon.
Witnesses said people were trapped upside down when the ride came off the rails at around 3.40pm.
Those injured were taken to hospitals nearby.
NHS Greater Glasgow and Clyde confirmed on Monday that it has four children at the Royal Hospital for Children. Three of them are in a serious condition, while one is described as stable.
One adult is in a stable condition at Glasgow Royal Infirmary, a health board spokesman confirmed.
NHS Lanarkshire said that five patients were taken to Wishaw General Hospital.
Of those, three children and one adult are said to be in a stable condition. One other minor has now been discharged, a spokesman confirmed.
Details of their injuries have not been released.
Witnesses said the ride was full when it came off the track.
Police, firefighters and paramedics rushed to the scene as several visitors posted images on social media appearing to show a mangled carriage on a pathway surrounded by dozens of people.
Six ambulance crews, a specialist operation team and emergency doctors had rushed to the scene.
Witness Katie Burns said she had just finished riding the Tsunami rollercoaster and was walking past when the carriage crashed with children on board.
On Facebook, she said: ''Literally got off the Tsunami at M&Ds and then walking past and the next lot of people get on and the full thing goes off the tracks.
''Kids and adults are still on it upside down, it's like something out a horror film, children crying and everything.''
Another witness James Millerick, who was queuing for another rollercoaster at the theme park, said he heard ''shrieks'' from customers.
''When we got there the rollercoaster had come off the track entirely - straight through the gated fence at the side of the rollercoaster and was upside down on the concrete path at the side,'' he told Sky News.
Chief Inspector David Bruce said: ''Along with other emergency services we attended immediately and on arrival it became clear that a series of five gondolas connected on a train on the Tsunami ride have detached from the rails, struck the superstructure and then struck the ground.
''We have launched an investigation and an inquiry between Police Scotland and the Health and Safety Executive (HSE).''
Mr Bruce added: ''They (the gondolas) fell less than 20 feet. It would appear that they have been coming round a bend and at that point it has detached.``
Scotland's First Minister Nicola Sturgeon said: ''My thoughts are with everyone involved in this terrible incident at M&D's theme park, especially those injured.''
A spokesman for the theme park's operators M&D's said: ''As a family-run business, our thoughts are with those who have been injured and their families. We wish everyone a full recovery.
''We are co-operating fully with Police Scotland and the Health and Safety Executive (HSE) on their joint investigation to ascertain the cause of the accident.''
According to the M&D's website, the Tsunami rollercoaster can go at speeds of up to 40mph through corkscrew turns and loops.
Children under 10 are not allowed to use the ride, and under 14s must be accompanied by a paying adult.
It is not the first time the park has had problems with its rides, including Tsunami.
In July 2011, nine passengers, including children, were stranded for more than eight hours when it came to a halt 60 feet above the ground.
And in March this year, eight people had to be rescued by firefighters in a cherry picker after the Tornado rollercoaster stopped working around 20 feet off the ground.