100s In Vigil For Asad Shah In Glasgow
26 March 2016, 08:11 | Updated: 30 March 2016, 13:50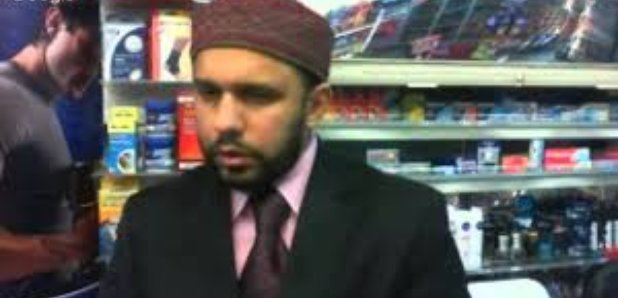 A well-respected Muslim shopkeeper who wished Christians a happy Easter and appeared to speak out against violence was killed in an attack police are treating as "religiously prejudiced''.
Asad Shah was found seriously injured outside his shop in Minard Road in the Shawlands area of Glasgow on Thursday night and pronounced dead on arrival at hospital.
A Muslim man has been arrested.
An Easter greeting from an online account apparently belonging to the 40-year-old Mr Shah, who was described as a "much loved'' member of the local community and a "friend to many'' had been posted earlier that day.
The Facebook message read: "Good Friday and very happy Easter, especially to my beloved Christian nation x!''.
Included in a series of posts and videos on the page in recent days were calls for peace and ``love to all beloved mankind''.
Earlier this month in a video he called for a stop to "disorder'' and "bloodshed'' and urged people to live together in peace.
He also said: "All the religions failed to create peace and heaven on this earth, Now the situation is very critical.
"My dear beloved all mankind we were not created to see this kind of situation on this earth.''
He went on: "All religions, including Islam, has failed to create peace and heaven on this earth.''
A 32-year-old man has been arrested in connection with Mr Shah's death.
Police Scotland said: "A full investigation is under way to establish the full circumstances surrounding the death which is being treated as religiously prejudiced.''
Officers confirmed that both Mr Shah and the arrested man were Muslims.
Neighbours have described the victim as a "pillar of the community'', and hundreds gathered for a silent vigil on Friday night in his honour.
Scottish First Minister Nicola Sturgeon joined an estimated crowd of 400-500 people on Friday evening for the vigil to show solidarity and remember Mr Shah.
Ms Sturgeon, whose constituency covers the area, tweeted afterwards: "Moved to be one of hundreds tonight as Shawlands united in grief for Asad Shah and support for his family.''
Those attending were encouraged to bring a daffodil. Many laid flowers and lit candles during the gathering.
One of the vigil organisers, Eildon Dyer, said: "It was very respectful.
"There were a lot of people clearly very upset. There were a lot of tears and lots and lots of flowers.
"Everybody has said he was the nicest man.
"He was clearly much-loved.
"Everybody had nice stories to tell about him and warm stories.
"It's just very, very sad.''
Ms Dyer, 58, who helped to organise the event on social media with Nisreen Sharif, 56, said: "Both of us have lived in this area for a long time and immediately this became known it was obvious the effect it was having on people.
"We felt the potential for something like this could be to divide a community and really what we wanted to show was a community standing together, which is in fact what happened because there were people from all different backgrounds who were there.
"As well as being a good tribute to Mr Shah I would say it was a good symbol of the community coming together.''
Also at the gathering were Scottish Government minister Humza Yousaf and Glasgow City Council leader Frank McAveety.
Mr McAveety tweeted: "Emotional vigil outside Mr Shah's shop as the community pay their respect #thisisnotwhoweare''
Mr Yousaf said on Twitter: "When our city is hurting the people of Glasgow wrap their arms round each other. Proud of Glasgow tonight x''
Tributes have also been laid at the police cordon surrounding the shop - Shah's Newsagent and Convenience Store.
Meanwhile, a fund-raising page set up on the GoFundMe website in support of Mr Shah's family has raised more than £20,000.