100 Scots in Queen's Birthday Honours List
9 June 2018, 08:22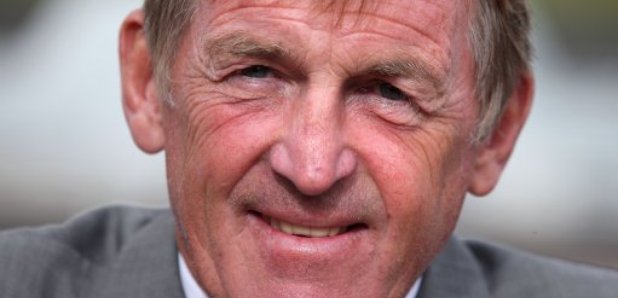 Former Celtic and Scotland striker, Kenny Dalglish is among more than 100 Scots in Queen's Birthday Honours List
More than 100 "exceptional" Scots from fields including science, sport, education and business have been recognised in the Queen's Birthday Honours List.
Football legend Kenny Dalglish and Professor James Hough, who helped detect gravitational waves, are among those to be given
knighthoods along with book shop founder Tim Waterstone.
There is an OBE for race horse trainer Lucinda Russell, who trained the 2017 Grand National winner One for Arthur.
Oil industry tycoon Sir Ian Wood, who was given a knighthood in 1994, adds to his honours by being made chancellor of the Order of the
Thistle by the Queen.
He said: "I am greatly honoured by this personal recognition from Her Majesty the Queen and I share it with the many very talented,
committed and enterprising people I have worked with in my life, whether in business, in public life or in my more recent philanthropic
activities.
"It is also deservedly shared with my beloved family."
Sir Craig Reedie, president of the World Anti-Doping Agency, receives a Knight Grand Cross for services to Sport while Douglas Flint is
knighted for services to the finance industry.
First Minister Nicola Sturgeon said: "The Queen's Birthday Honours list illustrates the achievements of many exceptional people from across
Scotland who have shown outstanding service and dedication.
"The recipients range from those who work in the fields of education and business, medicine and science, to those who promote our country
on the world's sporting stage and through traditional music."
Professor Hough has been recognised for his role in detecting gravitational waves.
The University of Glasgow academic was part of the international team that detected gravity waves - ripples in spacetime - a century after
Albert Einstein predicted their existence.
The 2016 discovery was described as "the biggest scientific breakthrough of the century" and Prof Hough, who worked on the project for
more than 40 years, has since been recognised with a gold medal from the Royal Astronomical Society, one of the highest accolades in
science.
Professor Hough said: "I am delighted and a bit overwhelmed by this honour.
"I am so pleased that the detection of gravitational waves has had such a scientific impact and am looking forward to the future discoveries
my colleagues and I are going to see in the coming years."
Known as "King Kenny" to many supporters, Dalglish will now become Sir Kenny in recognition of his services to football, charity and the city
of Liverpool.
The former Celtic and Liverpool striker remains Scotland's most-capped player with more than 100 appearances for the national side during
which he scored a joint-highest 30 goals.
After retiring from playing, Dalglish went on to manage Liverpool and was in charge during the Hillsborough disaster in 1989.
He was widely praised for leading the club's response to the tragedy and he continued to support the families of the 96 who died as they
campaigned for justice.
Douglas Flint has been recognised with a knighthood for services to the finance industry while book shop founder Tim Waterstone becomes a
Sir for services to charity and bookselling.
Mr Waterstone, who was born in Glasgow but grew up in England, opened his first book shop in 1982, going on to make it the largest
bookselling group in Europe.
Scottish Secretary David Mundell said: "I am pleased to see the Queen's Birthday honours recognise the achievements of a diverse and
inspiring number of our fellow Scots.
"From sporting icons to key players in business and academia, these individuals have been influential in shaping our nation."
............
The brother of aid worker David Haines, who was murdered by Islamic State extremists, has been awarded an OBE for his work in striving to
reject terrorism.
Mike Haines, 51, receives the honour for voluntary service to tolerance and education in the UK and abroad, after setting up the Global Acts
of Unity (GAU) project, which promotes peace and tolerance in schools across the country.
Mr Haines' brother David was beheaded in 2014 after being taken hostage in Syria while working for an international relief agency.
The 44-year-old father-of-two had been helping refugees in a camp near the Turkish border when he was snatched by militants.
Mr Haines, who dedicated the honour to his brother, said he was "both honoured and humbled" to be included in the Queen's Birthday
Honours list.
The father of two grown-up sons said: "It means a great deal to me and my family.
"Nonetheless, I want to be clear that this award is not about me, but for all those who have supported the Global Acts of Unity campaign and
the values it stands for.
"Like many of those receiving awards today, I stand on the shoulders of those who support me.
"From my wonderful fiance, to my sons, to my aunt and uncle, to my late parents, to my family and friends near and far - your love has
helped me push on during the most difficult times.
"This honour also goes to all the young people who are part of the GAU campaign, to the individuals and organisations doing vital work to
protect against terrorism, extremism and hatred in our communities, and to the people of London, Manchester and everywhere that has
suffered the effects of terrorism - you are the real heroes.
"Finally, David - this award is for you, brother.
"Your commitment and courage are a constant source of inspiration. You devoted your life to helping others, and in this I hope you see your
mission lives on."
Mike Haines was born in St Andrews and now lives in Dundee.
He has two sons, Euan, 27 and Gregor, 21, and is due to marry his partner Vanessa in October.
In 2017 he delivered more than 70 sessions in UK schools as part of the GAU project, seeking to empower students with the ability to reject
hatred, and to stand up to extremist narratives being spread by both Islamist and Far-Right groups.
For more information about the project visit https://mikehaines.globalactsofunity.com