New Chief Constable Appointed
10 September 2018, 17:15 | Updated: 10 September 2018, 17:40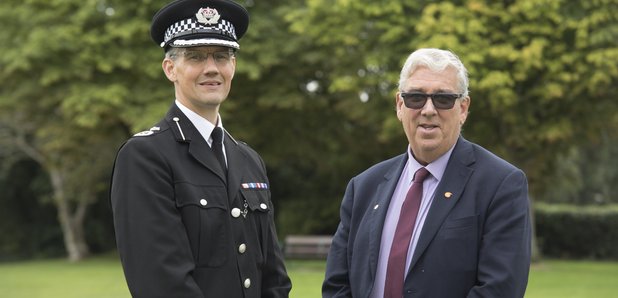 Carl Foulkes has been appointed Chief Constable for the region after a meeting of the North Wales Police and Crime Panel.
The Gulf War veteran will start in the role in November, saying tackling organised crime and domestic violence are his top priorities.
He'll also learn Welsh on a course in Nant Gwrtheyrn in Gwynedd while he's on annual leave from his current job as Merseyside's Deputy Chief Constable in October.
Foulkes (On the left of the picture with North Wales' PCC Arfon Jones) was born in Wrexham and says getting named the region's Chief Constable is a privilege:
"I'm not sure many chief officers get the opportunity to be the chief constable in the place that they were born, where their family live, where they genuinely love the area. I'm delighted to be coming back here.
"I am also really excited about the opportunities to make a real difference to the communities of North Wales.
"I want to work with the Police and Crime Commissioner around diverting addicts away from drugs and being more preventative and problem-solving in our approach- and working with partners to be more preventative.
"I want to ensure that our officers have state of the art equipment and technology so we can do things like fingerprinting out on the street and accept dash cam footage and other information via social media.
"I want our officers to operate as effectively on the street and in people's homes as they do on the internet when they are in a police station.
"I can't do any of that without the right people so I want to be very clear about how I support them, their well being, their mental health and their physical health.
"We need to make sure we have an organisation that's fit for the next five years, not just fit for here and now."