100 puppies saved from illegal trade
16 November 2016, 15:20 | Updated: 16 November 2016, 15:44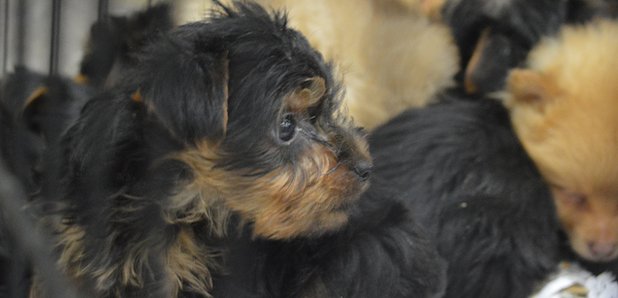 Around 100 puppies who were being smuggled into the UK from Ireland have been rescued at Holyhead Port.
Two shipments of dogs - including Beagles, Basset hounds and Labradoodles - were intercepted by Border Force officials at Holyhead Port yesterday.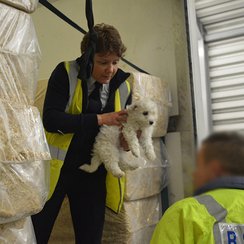 RSPCA Cymru say the puppies- most of them believed to be between 6 and 7 weeks old- were travelling in 'hugely inappropriate' conditions without food, water or proper ventilation.
They say it's a 'shocking example' of the illegal puppy trade where criminal gangs sell the dogs here for profit.
The dogs arrived at the port in Anglesey from Dublin on two separate ferries.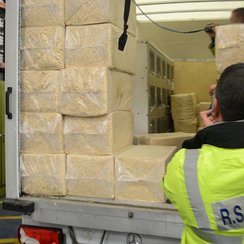 On the second lorry, the puppies were hidden behind bales of wood shavings.
The dogs were inspected by vets and deemed fit to travel back to Ireland. 2 of them were later found to have developed canine parvovirus and are currently getting vet treatment. The other dogs will soon be available for re-homing.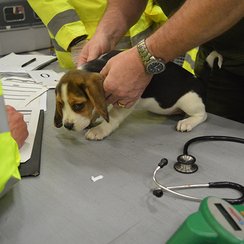 Ian Briggs is from the RSPCA's special operations unit. They are working with other charities targeting dealers illegally bringing in puppies for sale over the internet in the UK.
He told Heart:
"The conditions they were being transported in were shocking."
"There was no air flow in that vehicle, being inside the back of that vehicle was like being in a sauna so the dogs were extremely distressed."
"These people selling these dogs are organised criminals."
"These dogs are bred in poor conditions. The way they're bred leads to diseases that they spread amongst themselves. So unsuspecting members of the public buy these dogs and they then fall ill. In the best case scenario the buyer ends up with hundreds of pounds of vet bills to try and keep these dogs alive."
Gareth Pritchard, Deputy Chief Constable of North Wales Police and NPCC Lead for Dangerous Dogs and Companion Animals, said:
"There is concern from many police Forces about how criminals are seeking to make money from illegal and inappropriate puppy importation. These activities can cause severe animal welfare problems and provide revenue for criminals.
"We are pleased to work with the RSCPA on this important operation and the recent activity does demonstrate the scale of the problem. We will continue our discussions with the Welsh Government and DEFRA to seek improved controls on importation."