North Shields Murder: Man Jailed For Life
21 January 2014, 06:37 | Updated: 30 March 2016, 13:50
The ex partner of a hairdresser who was stabbed to death in North Shields has been jailed for life for her murder.
46 year old Lisa Banks was found at the Sole-O barber shop in Nile Street, North Shields, in September 2013.

She had suffered multiple stab wounds.

Robert Tiffin, who's also 46 and from Nile Street, pleaded guilty to murder at an earlier hearing.

Being sentenced at Newcastle Crown Court, a judge told Tiffin he'd spend a minimum of 23 years in prison.

Six months before her death, Miss Banks left the home she shared with Tiffin and moved into a flat nearby.

Tiffin then began harassing Lisa and eventually ended up stabbing her to death on the 7th of September.
Following the sentence, DCI Christina Barrett from Northumbria Police said:
"Tiffin (pictured) is an extremely dangerous individual and his actions in murdering Lisa and leaving her body are those of a callous and evil man.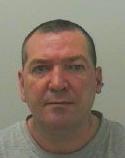 Thankfully he is now off the streets and will now spend a considerable amount of time behind bars.

It's been a very traumatic time for Lisa's family and friends and I can't thank them enough for their help and co-operation throughout the investigation.

It's testament to the courage they have shown during the last four months that we are here today to see Tiffin imprisoned for what he did to Lisa. "I hope that his sentencing can go some way in helping the family move on and bring them some peace."

Statement issued on behalf of Lisa Banks' family
"Lisa was a vibrant and bubbly woman. She was always smiling, full of fun and really loved life.

She was always so happy, and we used to say that if you met Lisa then she would brighten your day as her smile was so infectious.

Lisa had been a barber all her life and she really loved her job. She loved meeting new people and chatting to them and getting to know them, she was a real people person.

She was a mother, a daughter, a sister and if she was still with us now she would have been a grandmother. It's heartbreaking to think that she never got to see her first grandchild but we will make sure they know what an amazing person their grandmother was and that her memory is never forgotten.

She leaves behind so many happy and lovely memories and we as a family would like to thank the police, the Crown Prosecution Service, victim support and everyone involved with the case for their assistance in helping us receive justice."
___________________________________________________________________________________

UPDATE: 05:00 TUESDAY 10TH SEPTEMBER 2013

Northumbria Police have charged a man with murder after a woman was found dead in a barber shop in North Shields

46 year old Robert Lawrence Tiffin, of Nile Street, North Shields, has been charged with the murder of Lisa Jane Banks.

He's been remanded in custody to appear at North Tyneside Mags later.
____________________________________________________________________________________

UPDATE: 5:00 MONDAY 9TH SEPTEMBER 2013

At 11.18am on Sunday morning (September 8th), police received a report that the body of a woman had been found inside the Sole'O barber shop premises in Nile Street, North Shields.

46 year old Lisa Jane Banks, who was from the North Shields area was pronounced dead at the scene.

Nile Street was cordoned off for several hours.

Her death is being treated as a murder enquiry.