Wills And Kate Visit Sunderland
21 February 2018, 16:15 | Updated: 21 February 2018, 16:17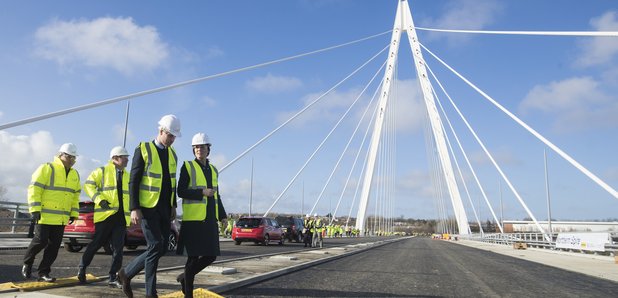 William and Kate have been on a visit to the North East.
The Duke and Duchess of Cambridge told youngsters training in circus skills they were "incredible" when they arrived in Sunderland to celebrate a new arts centre.
The royal couple was cheered by around 500 people as they went on a walkabout outside The Fire Station - a landmark building in the city centre which has been transformed into an £3.5 million cultural hub.
Wearing a green Dolce & Gabbana coat over a Seraphine black and white dress, the duchess chatted with families waiting outside and made a point of talking to the children acting as mini-policemen in uniform by the barricades.
Kate smiled as she told some of those waiting the weather was much better than it had been in London.
As they went inside, the duke and duchess sat down with children at a storytelling workshop - William sitting on floor among the children but joking that his wife "might need a chair".
The royal couple then watched a dance and circus skills class.
The duchess told Nicole Coates, 12, and Theresa Dunn, 11, both from Sunderland, what they were doing on the silks and trapeze was "incredible". She said: "I haven't seen that before" to the girls from Sunderland's Dance City group.
William and Kate ended a trip to the North East by visiting the striking Northern Spire, already a major landmark and standing twice as high as Nelson's Column and taller than Big Ben's clock tower.
The 1,550-tonne pylon bridge is the second part of the Sunderland Strategic Transport Corridor - a five-phase plan to improve links between the A19 and Sunderland city centre and the Port of Sunderland.
The Northern Spire - named following a public vote - will help reduce congestion around the city, speed up car journeys and allow land along both sides of the River Wear to be regenerated and developed.